Tipp
Weitere Kapitel dieses Buchs durch Wischen aufrufen
2016 | OriginalPaper | Buchkapitel
7. Fractionally Differenced and Fractionally Integrated Processes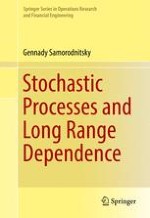 Erstes Kapitel lesen
Autor: Gennady Samorodnitsky
Bitte loggen Sie sich ein, um Zugang zu diesem Inhalt zu erhalten
Sie möchten Zugang zu diesem Inhalt erhalten? Dann informieren Sie sich jetzt über unsere Produkte:
R. Baillie, T. Bollerslev, H. Mikkelsen, Fractionally integrated generalized autoregressive conditional heteroscedasticity. J. Econ.
74
, 3–30 (1996)
MathSciNet
CrossRef
MATH
T. Bollerslev, Generalized autoregressive conditional heteroskedasticity. J. Econ.
31
, 307–327 (1986)
MathSciNet
CrossRef
MATH
R. Douc, F. Roueff, P. Soullier, On the existence of some ARCH(
∞
) processes. Stoch. Process. Appl.
118
, 755–761 (2008)
MathSciNet
CrossRef
MATH
R. Engle, Autoregressive conditional heteroskedasticity with estimates of the variance of U.K. inflation. Econometrica
50
, 987–1008 (1982)
W. Feller,
An Introduction to Probability Theory and Its Applications
, vol. 2, 2nd edn. (Wiley, New York, 1971)
L. Gil-Alana, A fractionally integrated model for the Spanish real GDP. Econ. Bull.
3
, 1–6 (2004)
C. Granger, R. Joyeux, An introduction to long-memory time series and fractional differencing. J. Time Series Anal.
1
, 15–30 (1980)
MathSciNet
CrossRef
MATH
M. Hauser, R. Kunst, Fractionally integrated models with ARCH errors: with an application to the Swiss 1-month Euromarket interest rate. Rev. Quant. Finan. Acc.
10
, 95–113 (1998)
CrossRef
P. Zaffaroni, Stationarity and memory of ARCH(
∞
) models. Econ. Theory
20
, 147–160 (2004)
MathSciNet
CrossRef
MATH
Titel

Fractionally Differenced and Fractionally Integrated Processes

DOI

https://doi.org/10.1007/978-3-319-45575-4_7

Autor:

Gennady Samorodnitsky


Sequenznummer

7

Kapitelnummer

Chapter 7
Bildnachweise
Neuer Inhalt/© Stellmach, Neuer Inhalt/© Maturus, Pluta Logo/© Pluta, Frankfurt School