01.04.2014 | LCI METHODOLOGY AND DATABASES | Ausgabe 4/2014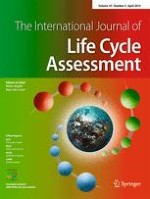 Framework for LCI modelling of releases of manufactured nanomaterials along their life cycle
Zeitschrift:
Autor:

Roland Hischier
Wichtige Hinweise
Responsible editor: Berlan Rodriguez Perez
Electronic supplementary material
The online version of this article (doi:
10.​1007/​s11367-013-0688-8
) contains supplementary material, which is available to authorized users.
Abstract
Purpose
Numerous publications in the last years stressed the growing importance of nanotechnology in our society, highlighting both positive as well as in the negative topics. Life cycle assessment (LCA) is amongst the most established and best-developed tool in the area of product-related assessment. In order to use this tool in the area of nanotechnology, clear rules of how emissions of nanomaterials should be taken into account on the level of life cycle inventory (LCI) modelling are required—i.e. what elements and properties need to be reported for an emission of a nanomaterial. The objective of this paper is to describe such a framework for an adequate and comprehensive integration of releases of nanomaterials.
Methods
With a three-step method, additional properties are identified that are necessary for an adequate integration of releases of nanomaterials into LCA studies.
Result and discussion
In the first step, a comprehensive characterisation of the release of a nanomaterial is compiled—based on reviewing scientific publications, results from expert workshops and publications from public authorities and international organisations. In the second step, this comprehensive overview is refined to a list containing only those properties that are effectively relevant for LCA studies—i.e. properties that influence the impacts in the areas of human toxicity and ecotoxicity, respectively. For this, an academic approach is combined with a second, more practical, view point, resulting together in a prioritisation of this list of properties. Finally, in a third step, these findings are translated into the LCA language—by showing how such additional properties could be integrated into the current LCA data formats for a broader use by the LCA community.
Conclusions
As a compromise between scholarly knowledge and the (toxicological) reality, this paper presents a clear proposal of an LCI modelling framework for the integration of releases of nanomaterials in LCA studies. However, only the broad testing of this framework in various situations will show if the suggested simplifications and reductions keep the characterisation of releases of nanomaterials specific enough and/or if assessment is accurate enough. Therefore, a next step has to come from the impact assessment, by the development of characterisation factors as a function of size and shape of such releases.