2017 | OriginalPaper | Buchkapitel
Framework for on an Open 3D Urban Analysis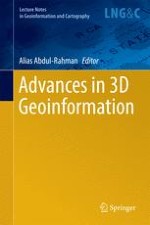 Erstes Kapitel lesen
Autoren: Marc-O. Löwner, Thomas Becker
Abstract
The Open Geospatial Consortium (OGC) is the driving organization for the specification of Web Processing Services (WPS) that enables distributed execution of computing processes. However, WPS are not widely distributed in the field of urban analysis. We identified economic relevance of projects that hinder an open source like publication, complexity of projects and, therefore, limited reusability of code and algorithms from these projects, very specific and geographically bound projects, and, a lack of publication culture for the reluctance of publishing open accessible WPS. Here we present a general framework for the publication or reusable WPS that enables both, the full reusability of algorithms and the possibility to develop business models. A small scaled WPS, the
AbstractKeyProcesses
like
Algorithm
,
Transformer
and
Inquirer
are introduced for the publication of open accessible, atomic and reusable services. Further aggregated and more advanced analysis can be published by the use of
KnowledgeBasedChainedProcesses
that may be published either as open access or represent already business models. In a last step even complete projects may be implemented as so called
ProblemSolvers
. Being aware not to present a fully elaborated standard, we give information about the components, transfer values and communication in a conceptual way. Further, we discuss the benefits of this approach along an example of relevance in the field of urban analysis.