2016 | OriginalPaper | Buchkapitel
7. Frameworks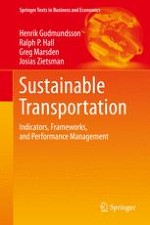 Erstes Kapitel lesen
Autoren: Henrik Gudmundsson, Ralph P. Hall, Greg Marsden, Josias Zietsman
Verlag: Springer Berlin Heidelberg
Abstract
The purpose of this chapter is to introduce the essential role of frameworks in measuring and managing sustainability in transportation. In Chap.
6
indicators were defined as key informational devices for planning and delivery with a number of distinct applications. Frameworks organize how combinations of indicators are selected and used. The chapter starts by defining and describing frameworks and why they are important. It then outlines a wide range of methods to 'frame' indicators, from broad ideas and paradigms, to more specific systems adopted by organizations. The active process of 'framing,' i.e., setting up a framework to develop and apply indicators and performance measures will also be discussed. The chapter will illustrate a number of generic framework types as well as practical frameworks that are used in areas such as transportation appraisal, environmental planning, sustainability assessment, and performance measurement. These examples are each discussed in terms of how well they support thinking and acting upon sustainability in transportation, and how well they support the different indicator applications that were introduced in Chap.
6
. The chapter will summarize the key features a framework should generally possess in order to provide optimal support to sustainability, without proposing one master framework to fit all situations. In the case studies discussed in Chaps.
8
–
11
, detailed examples of the application of frameworks will be analyzed. The analysis will draw from the concepts and typologies presented in this chapter, and will serve to show how different contexts in terms of spatial scale, institutional setting, policy goals, or task portfolio can affect how sustainability is framed and measured.