11.01.2019 | State of the Art | Ausgabe 6/2019 Open Access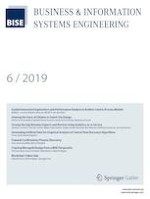 Framing Microgrid Design from a Business and Information Systems Engineering Perspective
Zeitschrift:
Autoren:

Thomas Sachs, Anna Gründler, Milos Rusic, Gilbert Fridgen
Wichtige Hinweise
Electronic supplementary material
Accepted after four revisions by Jelena Zdravkovic.
1

Motivation and Research Questions

In a global Delphi study on future trends in energy systems, 64% of 350 experts from around the world argued that "by 2040 the energy supply system will be structured in a cellular way: interconnected cells and 'islands' of the size of a city or medium-sized region will generate their energy from solar power, wind power, storage units and a minor share of conventional reserves" (BDEW et al.

2016

). In this future energy system, microgrids will play an important role. A microgrid is a small, decentralized distribution network comprising electricity generation, loads, and storage devices. It presents itself to the main power grid as a single controllable load that can also operate in islanded (self-sufficient) mode (Liang and Zhuang

2014

). According to Hossain et al. (

2014

), microgrids are "one of the most practical solutions for green and reliable power."

Microgrids' ability to mitigate energy systems' challenges, such as integrating renewable energies (Hatziargyriou et al.

2007

), simplifying demand side management (Allard et al.

2013

), reducing electricity costs (Brandt et al.

2014

), and electrifying rural areas (Mandelli et al.

2016

), explain their rise. In Germany, for example, there is a shift towards renewable energies in the energy policy, called the "Energiewende" (Strunz

2014

). The German government started paying subsidies for renewable energy sources (RES) in 2000 to foster this strategy and to ensure that 80% of the consumed electricity (gross electricity consumption) would come from renewable sources by 2050 (Bundesministerium für Wirtschaft und Energie

2016

). By bringing about more decentralized and intermittent generation, this development towards RES affects the low voltage electricity grid profoundly. Concerning connection, transmission capacity, and grid stability, readying the grid for such a high share of intermittent generation units will require substantial investments. Currently, the changes are leading to increasing grid charges, which contribute to rising consumer electricity prices (Paraschiv et al.

2014

). Instead of extending the grid to adjust to peaks in the renewable electricity production, decentralized structures could help integrate RES (Hatziargyriou et al.

2007

).

So far, the microgrid concept has been well developed from an electro-technical perspective. However, implementing such decentralized energy systems requires an interdisciplinary view and similar efforts to resolve economic, commercial, and technical challenges (Hatziargyriou et al.

2007

). The concept will also influence society: 59% of the experts interviewed for the mentioned Delphi study stated that decentralization might lead to the "emergence of new democratic self-governance structures at the local level" (BDEW et al.

2016

). Understanding the potential role of microgrids in our prospective energy system, as well as the economic, commercial, and social implications behind their design and development, has become a pressing issue.

"Microgrid design" means setting up an instance of a microgrid in practice, which requires managerial decisions. Its traditional understanding of engineering in line with solving business problems (Buhl et al.

2012

) equips the Business and Information Systems Engineering (BISE) community to advance the business side of microgrid design. Equally, information systems researchers can contribute significantly to the field of microgrids, which are socio-technical constructs with a great need for integrating information systems. Nevertheless, to date, there is only limited research on microgrids in the BISE and information systems (BISE/IS) community. For example, in the Association for Information Systems (AIS) electronic library, only four papers (at the end of 2017) address the topic in detail. Experts expect microgrid systems to be integrated into the future electricity market (BDEW et al.

2016

), which requires domain-specific BISE/IS artifacts to approach this topic and to facilitate its emergence. Microgrids have become a promising area of research, especially for the Green Information Systems and Energy Informatics streams (Brandt et al.

2014

).

Our objective is to structure the academic state of the art (SOTA) of microgrid design and to derive research gaps that the BISE/IS community could address, thus to bridge the gap between academia and business practice. We address two research questions (RQ) in this paper:
RQ 1: What framework can structure design options that interdisciplinary literature describes for setting up a microgrid?

RQ 2: To which aspects of the microgrid concept should BISE/IS researchers direct further effort?
2

Microgrids: Definitions and State of Practice
3

Method

We follow a qualitative research strategy, comprising inductive and deductive elements, to answer our research questions. We set out with the idea of an interdisciplinary literature review: via argumentative reasoning, we derive a framework that structures the SOTA of microgrid design. We choose this strategy, as various, mainly business, aspects of microgrids still need to be defined, for example, the commercial interaction with centralized resources of electricity generation and transmission (Soshinskaya et al.

2014

; Tao et al.

2011

). Despite the international examples described above, the number of existing microgrid projects is still limited. We shall, therefore, focus on describing qualitative experience to a greater extent than statistical evidence (Hossain et al.

2014

).

By positioning microgrids in the Energy Informatics (EI) area, we endeavor to foster research on microgrid design and deployment. Goebel et al. (

2014

) encourage "EI researchers with a background in economics and market design (…) [to] help to develop innovative market structures and products that facilitate the market participation of distributed generation, flexible loads, and energy storage." Similarly, Gholami et al. (

2016

) express the necessity to research Green Information Systems solutions to problems resulting from the shift to intermittent RES: "[this shift] is not just a smart grid problem. It also requires designing new organizational structures." Microgrids are one such prospective market structure. Hence, we develop an artifact for BISE/IS researchers as our research's target group. The value we intend to provide is a consistent, clear, and complete synopsis (Schwarz et al.

2007

) which helps understand microgrid design options and external influences. Additionally, we want to identify research gaps which the BISE/IS community can address in the future. Besides, practitioners could use the framework to survey the academic SOTA or to structure efforts associated with setting up microgrids and developing this technology's potential.

Through an extensive literature review, we collect previous research studies in order to develop the framework (Schwarz et al.

2007

). This is a standard approach to conceptualizing frameworks (Eierman et al.

1995

; Barrios-O'Neill and Schuitema

2016

). We follow the process that vom Brocke et al. (

2009

) suggest and build on renowned BISE reference models. Furthermore, we conduct a forward/backward search on pre-defined keywords in databases, thus providing an interdisciplinary overview of microgrids: IEEE Xplore and ScienceDirect host articles from connected disciplines (electrical engineering, social sciences, etc.), while AIS e-library serves as a repository for BISE/IS research. We analyze articles from 2002 on, which was when Lasseter et al. (

2002

) initially described the microgrids concept. Appendix 4 (Electronic Supplementary Material - ESM - available via

http://​springerlink.​com

) provides an overview of the keywords, search strings, and relevant SOTA papers. In two already well-researched fields, we keep to a forward/backward search based on such current surveys (Hossain et al.

2014

; Gamarra and Guerrero

2015

). We use a concept matrix (Salipante et al.

1982

), presented in Appendix 3 (ESM), to systematize prior research. In a following evaluation, we iteratively improve the framework by validating its completeness, consistency, and clarity based on expert feedback. In line with a framework and a SOTA review's purpose (Schwarz et al.

2007

; vom Brocke et al.

2009

) and answering RQ 2, we provide directions for further microgrid research with a research agenda.
4

Development of a Microgrid Framework

Both hardware and software help bring microgrids to fruition: for instance, devices for sensing and reporting physical conditions assisted by according processing techniques allow for automated control of energy usage (Lasseter et al.

2002

). BISE/IS research takes broad perspectives – not solely economic, but also ecological and social – on hardware and software's integrated management (Schmidt et al.

2009

). Consequently, a BISE/IS framework suits a managerial view of microgrid design. We therefore build our review's structure by transferring existing frameworks to our case. In Sects.

4.2

–

4.6

, we provide a synopsis of the relevant literature that describes our framework's elements and possible configurations.
4.1

Framework Transfer and Derivation
4.2

Energy Technology and Infrastructure

The original microgrid concept (Lasseter et al.

2002

) describes a microgrid as a cluster of loads and micro-sources (< 100 kW) that provides power and heat. Basak et al. (

2012

) list the

Energy Technology & Infrastructure

components along the energy generation-to-loads (mobility, electricity, cooling, heating) process. Consequently, there are instances when such a microgrid for electric energy includes heating or district heating as specific electric loads, while our subject matter does not comprise natural gas or water as an energy form.

As process components, the mechanisms energy conversion, relocation, exchange, and storage ensure grid stability in an intermittency-friendly energy system (Romankiewicz et al.

2014

). Fusheng et al. (

2015

) suggest that microgrids consist of distributed generation, loads, storage, and control devices. All layer components are typically on the same voltage level (Stadler et al.

2016

). In our framework, layer I includes the technology required to (1)

generate

, (2)

consume

, (3)

store

, and (4)

distribute

energy, as well as (5) the

coupling point

. In a SOTA analysis of pilot sites, Hossain et al. (

2014

) provide an overview of technologies performing these four functions in microgrid projects.
4.3

Information and Communication Infrastructure

Literature focusses mainly on (1)

communication technologies

(Gao et al.

2012

; Wang et al.

2011

) and (2)

sensors and actuators

(Erol-Kantarci and Mouftah

2011

). All are in line with the internet of things architecture, whose perception layer consists of sensors and whose communication layer integrates technologies for sensor data exchange (Jaradat et al.

2015

).

1.

Communication

Wang et al. (

2011

) list copper conductors, optical fiber, power line communication, and wireless communication as communication technologies in the smart grid context. They stress the importance of wireless technologies, arguing that their monitoring precision is high as is their fault tolerance, they cover large areas, have remote control capability, and are scalable. Every communication network in a microgrid can be wireless: a home area network connects the smart meter and smart devices in a household to each other. Neighborhood and field area networks aggregate the data from all the smart meters across a neighborhood or a community (Tsado et al.

2015

). The data are sent to third parties on a wide area network, such as service providers (e.g. system operators) or other microgrids, for mutual coordination (Fadel et al.

2015

).

2.

Sensing and reacting

To supply data to application systems in microgrids, a sensor and actuator infrastructure is often connected via a wireless sensor network (Erol-Kantarci and Mouftah

2011

; Fadel et al.

2015

). Tsado et al. (

2015

) include meters in sensor networks as the middleware for an advanced metering infrastructure. This is in line with Rashed Mohassel et al. (

2014

), who define a smart meter as a combination of a sensor, a display unit, and a communication module (usually a wireless transceiver). Depuru et al. (

2011

) extend this definition by including the possibility of operating devices through a smart meter.
4.4

Application Systems

Application systems

for monitoring and controlling distributed energy resources are widely known as energy management systems (EMS, Su and Wang

2012

). EMS use various sources of (1)

input data

, like information from a utility or on devices in the microgrid, to state and solve optimization problems (Iqbal et al.

2014

; Jaradat et al.

2015

). Furthermore, EMS integrate methods that we summarize as (2)

artifacts

, as TOGAF's application and data architectures do.

Markovic et al. (

2013

) argue that, besides EMS, energy systems require business management systems (BMS) for functions such as billing and consumer relations. Such functions rely on EMS output. An interface, therefore, enables automatized management processes. Information systems developers need to consider behavioral aspects in EMS and BMS user experience design (vom Brocke et al.

2013

). For example, Goebel et al. (

2014

) emphasize the proper presentation of energy data to achieve enduring changes in consumer behavior.

1.

Data

Gamarra and Guerrero (

2015

) mention four major EMS data sources: RES, energy storage, electricity markets, and consumer loads. Olivares et al. (

2011

) extend the focus beyond real-time data to forecasts of generation, loads, and prices. Su and Wang (

2012

) regard weather forecasts as another essential source of planning generation and demand. More precisely, Shi et al. (

2015

) list insolation, wind speed, and temperature as crucial for forecasting generation from RES. Iqbal et al. (

2014

) provide an overview of the parameters for generic optimization problems in the renewable energies context.

2.

Artifacts

Literature reviews of artifacts for renewable energies and microgrids include Iqbal et al. (

2014

); Liang and Zhuang (

2014

), as well as Minchala-Avila et al. (

2015

). EMS can integrate methods for forecasting external market prices (Olivares et al.

2011

) and generation from RES (Ahmad Khan et al.

2016

), for upfront and ongoing microgrid planning, and for cybersecure control (Liu et al.

2018

). Gamarra and Guerrero (

2015

) distinguish specific planning and operation issues:

power generation mix

and

sizing

focus on upfront strategic and tactical problems, for example, which RES to include. Mengash and Brodsky (

2017

) develop a multi-criteria operation and investment recommender. Most approaches aim at cost reduction. Fridgen et al. (

2015

) follow a multi-criteria decision approach in their artifact, considering not only economic but also ecological and social objectives.

Siting

covers continuous strategic and tactical problems that mainly deal with energy distribution and the associated power quality assurance (Gamarra and Guerrero

2015

).

Scheduling

covers operative issues, which constitute the majority of problems in a microgrid. These include the use of resources for generation and storage, trading strategies, and DSM decisions such as load shifting (Gholami et al.

2018

; Liu et al.

2017

). Specific software helps solve these problems (Ahmad Khan et al.

2016

; Mendes et al.

2011

).
4.5

Governance

Governance

describes how to establish policies and continuously monitor their proper implementation. In the microgrid case, layer IV impacts all the other layers. The policies determine the operation, driven by the respective owners' (1)

objectives

. Microgrids allow to separate (2)

ownership

, (3)

investment

, and the (4)

operating model

. For example, a utility can be the owner of a wind turbine, while the local community funds it, and a third-party service provider operates the microgrid. Consumers would be other external stakeholders. We therefore include (5)

stakeholder relations

.
4.6

Contextual Factors

Contextual factors account for external influences on the microgrid design. We adopt the PESTLE framework, which has been applied to electricity topics before (Zalengera et al.

2014

), to analyze these factors. Table

3

provides an overview of the literature addressing contextual factors.

Table 3

Contextual factors influencing microgrid design
Category

Examples

Political (P)

Policy effects on microgrid operation (Zachar et al.

2015

)

Need for economic policy changes (Vahl et al.

2013

)

Economic (E)

Social (S)

Technological (T)

Legal (L)

Environmental (E)

Environmental constraints, e.g. area of influence, space availability, RES and other local energy resources, energy density of the area (Gamarra and Guerrero

2015

)

Climate change and emissions (Koirala et al.

2016

)
There is a clear regional or national focus when developing microgrids (Tao et al.
2011
). Several authors point out that contextual factors differ between countries. Such differences influence, for example, whether microgrids have a positive business case (Basak et al.
2012
; Ustun et al.
2011
). In the US, microgrids are seen as an option to improve reliability (Hossain et al.
2014
). In Europe, the hopes are to absorb the increasing share of renewable energies (Hatziargyriou et al.
2007
; Jiayi et al.
2008
; Ustun et al.
2011
). In developing countries, microgrids are considered a solution for rural electrification (Mandelli et al.
2016
; Smith et al.
2015
).
Contextual factors can either be drivers of or barriers to microgrid deployment. Soshinskaya et al. (
2014
) identify such barriers as "technical, regulatory, financial, and stakeholder." Based on a literature review and a case study, they identify the need for further research, especially on stakeholder barriers.
5

Evaluation

The framework's usefulness results from its correctness and applicability. As is typical for frameworks (Schwarz et al.

2007

), we validate correctness by defining completeness, consistency, and clarity as requirements.

Completeness

seeks to give an exhaustive answer to our RQ 1 on options for microgrid design.

Consistency

refers to the sound derivation of the entire framework from a literature review, resulting in accurate content and plausible reasoning.

Clarity

strives for easy and intuitive understanding, without redundancy or overlap. We draw on expert interviews to ensure that these requirements are met and to complete the indications identified in existing research.
5.2

Interviewee Selection

In total, we interviewed 18 experts from 15 organizations. We chose the experts carefully on grounds of their experience and current position. When selecting them, we paid attention to their understanding of the information systems involved in microgrids. Based on our own assessment, we conducted five interviews with interviewees with a strong IT background or relevant knowledge. Seven interviews included at least one expert with a medium IT background, and we held only three interviews with experts without an IT background (see Appendix 5 in ESM for an overview). In addition, we covered six stakeholder groups, which gave us rich indications of microgrid technology and its markets. The academic experts (Acad.) are researchers from three disciplines relevant to microgrids: economics, electrical engineering, and BISE/IS research. We only considered researchers with industry experience gained through collaboration projects. The community experts (Com.) are decision makers at municipalities that have installed own generation capacities. The DSO experts have a German and European focus. The start-up experts (StU.) are founders with prior experience of the energy industry. The component supplier experts (Sup.) work for companies that are among the market leaders in smart grid and microgrid technologies. The utility experts (Utl.) have more than 10 years of relevant industry experience.

More information on the interviewees' organizational affiliation is beneficial: we thus disclose the business role of the experts' organizations in the "traditional" electricity market, with the supranational power grid at its core. After all, an increase in microgrids could affect competition in this market and, therefore, potentially influence experts' statements regarding, for instance, microgrids' connection to the main power grid. To identify the appropriate organizational market roles in Appendix 5 (ESM), we refer to the established European electricity market role model (ENTSO-E

2015

). Just like the German role model (BDEW

2016

), this model depicts the current main grid electricity market. It is therefore only partly transferable to the microgrid field. Nonetheless, we can indicate apt market roles for 10 of the 18 experts.

The remaining experts are either academics or affiliated with start-ups and component suppliers. They have their relevant role as innovators in the market for microgrids, furnishing business models, technology, and knowledge, but not in the current main grid electricity market. This way, we simultaneously extend the role logic of those "traditional" models to the market for microgrids, which we consider partly prospective and to which we direct our framework.

Besides the experts' stakeholder group and organizational market role, we indicate their field of expertise since our interview experience taught us that interviewees take different approaches to the microgrid concept, depending on their business (Bus.), engineering (Eng.) or policy (Pol.) background.
5.3

Analysis

We used evaluation strategies throughout the interviews to ensure completeness, consistency, and clarity. First, we asked the interviewees whether they deemed the framework complete. Eight interviewees explicitly stated that they did, despite the fact that some may have focused on their respective field of expertise. Second, we tested for consistency by asking the interviewees (or interviewee duos) to explain their understanding of the framework. Nine could fully explain the framework, five focused on parts of it, and one did not explain, instantiating it directly instead. Third, as an indicator of the framework's clarity, we defined the amount of clarifying questions asked. In the early stage, two interviewees stated that the framework was difficult to understand; we also received a higher number of suggestions for improvement. We received eight clarifying questions over the course of the first five interviews, seven questions over the next five interviews, and only two over the last five interviews. This decline indicated the framework's evolution towards higher clarity and comprehensibility.

For instance, the first interviewees advised us to include objectives and stakeholder relations in the governance layer. The later interviews explicitly highlighted the inclusion of these two governance aspects and confirmed their importance. The fact that we included the microgrid's interaction with the power grid via the coupling point in the framework's first refinement, stimulated discussions on the DSO involvement and the potential rulesets for a DSO-microgrid interaction. The following interviews confirmed that the framework includes the relevant design options and contextual factors. Additionally, the interviewees in later interviews started to spontaneously provide examples of each dimension from their experience when explaining the framework to us. All these experiences suggested that the framework is, to the necessary extent, complete, concise, and clear.

We recorded, transcribed, and stored all the interviews. To derive insights via a simple coding approach, we fitted portions of the transcripts into categories, which we ensured were grounded in the data (Kaplan and Maxwell

1994

). Example codes, as seen in Appendix 6 (ESM), were "Regulation is a main influencing factor" or "Layer (I) is most mature." We counted the appearance of statements relating to these codes. Frequently addressed codes pointed towards promising microgrid research directions. If one interview referred to one code several times, we only counted it once to avoid over-weighting specific views.
5.4

Validity and Reliability of Results

Two authors analyzed the interview transcripts independently to ensure less biased categorization and to increase the results'

internal validity

. Additionally, we undertook a simplified pattern matching (Gibbert et al.

2008

) to compare the obtained results with our literature review's findings (see Table

4

). Triangulation, which refers to adopting multiple perspectives, benefited the

construct validity

. Specifically, we interviewed 18 experts from six stakeholder groups and with various backgrounds (Myers and Newman

2007

) over a short period (Feb–Mar 2016). Still, a larger panel, potentially with additional affiliations like financial services providers, could increase the significance of the opinions.

Table 4

Research directions associated with the framework dimensions
Framework dimension

Key research question for the BISE/IS community

Raised by experts

Raised by literature

Expert affiliation

Field of expertise

Acad.

Com.

DSO

StU.

Sup.

Utl.

Σ

Bus.

Eng.

Pol.

Σ

(I) Energy Technology & Infrastructure

What factors influence technology choice and the sizing of storage in microgrids?

2

1

1

4

2

2

4

(II) Information & Communication infrastructure

How can data security and secure communication in microgrids be ensured?

1

1

1

1

4

3

1

4

(III) Application systems

What kind of EMS reference model integrates administrative functionalities?

1

2

1

4

2

2

4

What are specific requirements to user interface design and consumers' user experience in a microgrid?

1

2

1

4

3

1

4

How can forecasting for renewable generation and load be improved?

2

2

3

2

2

11

4

6

1

11

Goebel et al. (2014)

(IV) Governance

How do viable business and service models for microgrids look like?

1

2

2

5

2

3

5

Soshinskaya et al. (

2014

)

What multi-criteria optimization methods can help solve planning problems in microgrids?

2

1

3

1

2

3

Gamarra and Guerrero (

2015

),

(V) Contextual factors

How does microgrid development affect the energy system?

2

2

1

5

3

2

5

How can stakeholder barriers to microgrid deployment be decreased?

2

3

3

2

2

12

3

5

4

12

Soshinskaya et al. (

2014

)

What market design incorporates proper regulatory requirements?

1

2

2

1

1

1

8

2

4

2

8

Soshinskaya et al. (

2014

),
A general risk of conflicting interests or too narrow an expertise is inherent in the qualitative results gained from expert interviews, which affects the
external validity
. Further, aggregating the design options on four layers meant generalization, which might oversimplify relationships in some real-world contexts. Contextual factors that experts with a specific German background outlined might not be valid in other regional contexts. Thus, a multi-country comparison of local drivers or barriers might be of value for policymakers and users determining a microgrid's optimal context. To enhance our research's
reliability
, we documented the steps we performed in a detailed manner, used transcripts, and created a database to store the raw data, as well as the results of the coding exercise (Gibbert et al.
2008
).
6

Directions for Microgrid Research in the BISE/IS Community

Based on the literature and expert interviews, we derive directions for future BISE/IS research (RQ 2). We will outline the questions regarding each of the framework dimensions that researchers could address in the future. We classify a research question as relevant if the literature and a minimum of three experts have referred to it (see Table

4

).

1.

Energy Technology & Infrastructure:

The experts and literature agreed that the technology layer is the most mature one. This maturity includes intelligent control of microsources and loads. The most significant research potential lies in storage choice and sizing.

2.

Information & Communication Infrastructure:

An equal number of experts regarded ICT for microgrid applications as either mature or not mature. Information security remains a challenge for a digitized energy system, as pursuing the protection of data and communication is necessary.

3.

Application systems:

Information systems are relevant not only for control, but also fulfill administrative functionalities like billing, reporting, and customer relations. Interviewees demanded better integration of EMS and BMS. Additionally, behavioral aspects are crucial: developing appropriate user interfaces plays a significant role in ensuring transparency to residents, which increases the DSM acceptance and fosters energy-efficient behavior. The interviewees desired a specific focus on gamification aspects.

4.

Governance:

Viable business models and benefit sharing need to receive more attention if microgrids are to be deployed commercially. Service models for microgrids are closely tied because outsourcing operational tasks is realistic. Furthermore, the involvement of multiple stakeholder groups necessitates global optimization approaches for planning problems.

5.

Contextual Factors:

External socio-technical influences currently limit microgrid deployment. The interviews and literature indicated that the stakeholder involvement, particularly in residential microgrids, and the regulatory environment are the main barriers to overcome. Economic efficiency or profitability are prerequisites, except when security of supply can compensate for these prerequisites.
7

Conclusion

According to Watson et al. (

2010

), "we all have a responsibility to mitigate global climate change." Therefore, research on Green IS (vom Brocke et al.

2013

) should consider solutions for future energy systems. Based on a systematic SOTA research review, our framework serves to understand what design options and contextual factors one needs to examine in order to choose a suitable microgrid setup. Nonetheless, our approach is subject to limitations and future research could extend this work. Furthermore, BISE/IS studies could catalyze microgrid deployment by addressing the key questions we have presented above.
7.1

Limitations

Since the value of a microgrid for a power system depends on contextual factors, this could mean that the benefit might be limited to specific geographic situations. Experts have pointed out that use cases such as rural electrification can be successfully achieved with microgrids, while decentralization may imply a loss of efficiency in a developed power grid, such as that in Europe. We likewise observed differing opinions and an ambivalent discussion during the interviews (c.f. no. 14 and 18 in Appendix 6 in ESM).

When considering the concept of microgrid design in their research, users of our framework could have varying views on its purpose and how it should be employed. By motivating and defining the term from our point of view, we have attempted to provide a full understanding. Space constraint does not allow us to provide a process for understanding the contextual factors, nor support for decisions made when these factors require a trade-off between design options; therefore, both remain subject to further research. The analysis of further literature could strengthen the theoretical foundation for framework development. In addition, technology evolves quickly, which means that we cannot ensure the framework's adaptability to technological changes in years to come.
7.2

Outlook

By and large, the interaction of energy technologies with information systems is crucial if microgrids are to benefit power systems. According to the interviewed experts, the technological foundations for setting up and operating microgrids are solid, but the lack of economic and business considerations stalls their implementation. Developing cost-effective and targeted solutions thus requires the integrated perspectives that BISE/IS research can provide.

We regard the microgrid concept as one technology that could contribute to building a future, more decentralized, energy system, which could help mitigate not only local but also global challenges, such as climate change. In a broader context, this paper aims at sensitizing researchers to reflect on solutions for efficient energy use in general. Action is required; technology and its use are at the core of this action.
Acknowledgements
This research was (in part) carried out in the context of the Project Group Business and Information Systems Engineering of the Fraunhofer Institute for Applied Information Technology FIT. The research contribution of two authors was partially supported by the E.ON Stipendienfonds.
Open Access
This article is distributed under the terms of the Creative Commons Attribution 4.0 International License (
http://​creativecommons.​org/​licenses/​by/​4.​0/​
), which permits unrestricted use, distribution, and reproduction in any medium, provided you give appropriate credit to the original author(s) and the source, provide a link to the Creative Commons license, and indicate if changes were made.
Electronic supplementary material
Below is the link to the electronic supplementary material.