2006 | OriginalPaper | Buchkapitel
Free plain motion of flexible beams in MBS - A comparison of models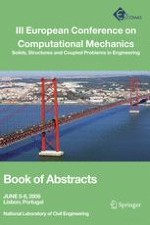 Erstes Kapitel lesen
Autoren: R. Zander, H. Ulbrich
Verlag: Springer Netherlands
In multibody systems (MBS) structural elasticities are usually described using one floating frame of reference for each body. This leads to a compact mathematical formulation for the described physics, but it is restricted to small deflections relative to the floating frame.
To overcome this limit, we combine the MBS ideas with concepts of the finite element (FE) method. Single elements are treated in a formulation of hybrid MBS giving exact rigid body movements for single elements. The compact form of equations is maintained and independent discretisations for longitudinal and transversal deformations are possible. To permit the assembly of several elements to one structure, the equations of motion are transformed to a coordinate set motivated by FE, whereas global positions are used as nodal coordinates instead of displacements. This approach allows for large translations and geometrically large deformations of the entire structure.
The 'absolute nodal coordinate formulation' (ANCF) [
2
] also uses global coordinates and provides exact rigid body motions for single elements, thus allowing for large structural deflections. Instead of rotations, the derivatives of coordinates are used. In contrast to our approach, the ANCF uses equal discretisations for longitudinal and bending deformations in the case of a one-dimensional continuum and gives a constant mass matrix.
Based on two examples, both models are compared with respect to their relative accuracy and numerical efficiency. As a first model a simple crank-shaft with a highly flexible long crank is investigated. To minimise the influence of the time discretisation on the results, an error-controlled time integration is used for these simulations. For fine spatial discretisations both models converge to one solution which is used as a reference for the evaluation of the model. The main focus lays on the number of degrees of freedom and the computational effort that is required for each method to obtain a desired accuracy. Moreover, the relative error using equal numbers of degrees of freedom is studied. The second example - an elastic rocking rod - is built by a highly flexible and initially straight beam bouncing on two point obstacles. Impacts and constraints are treated following modern methods for non-smooth rigid MBS dynamics [
1
] as an extention to flexible systems. In this context, the computational effort for contactsolving together with the robustness of the formulations are investigated.