08.02.2017 | Ausgabe 11/2017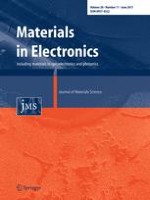 Frequency dependent electrical characteristics and origin of anomalous capacitance–voltage (
C–V

) peak in Au/(graphene-doped PVA)/n-Si capacitors
Autoren:

S. A. Yerişkin, M. Balbaşı, İ. Orak
Abstract
Au/(7% graphene-doped
PVA
)/n-Si capacitors were fabricated and their electrical characteristics were investigated using complex impedance spectroscopy method (
ISM
) in the wide frequency range at room temperature. Experimental results show that the values of capacitance (
C
) and conductance (
G
/
ω
) decrease with increasing frequency. Such behavior of these parameters, especially at low frequencies, was attributed to the surface polarization; surface states (
N
ss
) and their relaxation time (
τ
). Main electrical parameters such as doping concentration of donor atoms (
N
D
) and barrier height (
Φ
B
(
C–V
)) were obtained from the reverse bias
C
−2
–V
plots for various frequencies. While the value of
N
D
decreases,
Φ
B
(
C–V
) increases with increasing frequency. The large values of
C
especially at low frequencies were attributed to the high dielectric graphene-doped PVA.
C–V
plots in depletion region show a distinctive anomalous peak such that its intensity increases with increasing frequency whereas its position shifts toward negative biases due to the effects
N
ss
and series resistance (
R
s
). The plots of
N
ss
versus V and
R
s
versus V are also obtained using low–high frequency capacitance (
C
LF
–C
HF
) and Nicollian and Brews methods, respectively. Obtained results are promising considering the performance of capacitors in storing large amounts of charge, thus 7% graphene-doped
PVA
can be used as an alternative material for replacement of conventional silicon dioxide (SiO
2
).