2018 | OriginalPaper | Buchkapitel Open Access
Freshwater Microplastics: Challenges for Regulation and Management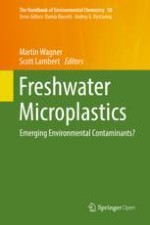 Autoren: Nicole Brennholt, Maren Heß, Georg Reifferscheid
Abstract
The accumulation of plastic debris in aquatic environments is one of the major but least studied human pressures on aquatic ecosystems. Besides the general waste burden in waterbodies, (micro)plastic debris gives rise to ecological and social problems. Related to marine ecosystems, these problems are already in the center of interest of science, policy, and public. The United Nations Environment Programme, for instance, drafted a joint report on "marine plastic debris and microplastics," and the European Community included the issue into the European Marine Strategy Framework Directive, descriptor 10 "marine litter."
However, (micro)plastic litter in freshwater systems is not yet explicitly addressed in the respective regulations, although the issue is relevant for many international and national policy instruments and initiatives. Many conventions, agreements, regulations, strategies, action plans, programs, and guidelines refer to "all wastes" in general. This should also concern (micro)plastic waste.
This chapter provides an overview of the regulatory instruments developed at different levels to address freshwater (micro)plastic litter. Beyond that, specific management options and measures that are either compulsory or voluntary are presented. Nevertheless, only few options have been realized so far. Reasons are numerous, first and foremost the lack of consensus on the definition of microplastics.
The complexity of these particulate stressors with very heterogeneous physicochemical characteristics poses new challenges for regulation and management. We highlight the most important questions from the perspective of freshwater monitoring. Furthermore, we discuss a possible adaption of existing environmental policy instruments and potential management options for single categories of (micro)plastics.