2006 | OriginalPaper | Buchkapitel
Friction Induced vibrations in a clutch system. Consequences on the apparent friction torque.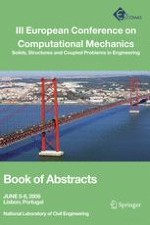 Erstes Kapitel lesen
Autoren: Gaël Chevallier, Dominique Le Nizerhy
Verlag: Springer Netherlands
The following work has been conducted in order to analyze the judder vibrations which sometimes occur in automotive during the engagement ofthe clutch. Those vibrations are induced by the friction torque when the disc is sliding against the flying wheel. It is well known that the friction force depends on the relative velocity. It may be responsible for the instability of the mechanism. Our aim is to predict how the friction force changes when the sliding velocity increases. Firstly, we present few experimental results which we have obtained using our experimental devices. We showed in a previous work that the evolution of the friction force according to the sliding velocity may be non linear. Moreover it may appear a memoly effect due to the coupling with thermal effects. These results highlighted the fact that the evolution of the force of friction is not due only to the material of friction but also to the structure of the coupling system [2]. Taking into account these experimental conclusions and according the works of Shallamach [4], Adams [I], and Linck [3] who showed that the evolution of the friction force might be induced by contact waves like "stick slip waves", we proposed two models of the clutch system that are able to capture the contact vibrations [2] and to predict the value ofthe "apparent friction force". These models allow us to separate the effects of the material from the effects of the structure. Unforhmately, the evolutions of the Kction due to the st~ucture and to the material are in the same order of mamitude. In this paper, we simulate the complete clutch system including the different p a t s All the parts are discretbed using the fmite elements method. In order to minimize the duration of our simulations, we assume that the behavior is indenendent of the radial direction. Thus we consider a two dimensional model with the assumntion of plane strains. There are four steps in the prediction of the apparent friction force: calculus of the steady sliding positions; calculus of the unstable modes around the steady sliding positions; calculus of the behavior of the system after the bifurcations. Here we look for limit cycles "sine an exnlicit schema in order to solve the dynamic system; calculus of the apparent friction force for different values of the sliding velocity. Finally, we show the influence of the parameters that describe the behavior ofthematerials, and we present the comparison between the experiences and themodels.