2006 | OriginalPaper | Buchkapitel
Frictional Contact of Elastomer Materials on rough rigid Surfaces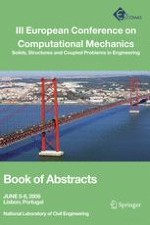 Erstes Kapitel lesen
Autoren: Jana Nettingsmeier, Peter Wriggers
Verlag: Springer Netherlands
Within the analysis of many technical problems with frictional contact, Coulombs law is used, which implies a constant friction coefficient µ. This assumption is sufficient for many applications in structural mechanics; however in the special case of rubber friction on rough surfaces the resulting simplification cannot be accepted. The physical interactions between tire and road surface are very complex and still widely unknown. As it is apparent from experiments, the friction coefficient depends heavily on various parameters like sliding velocity, surface roughness, normal forces and temperature change.
Our aim is now to derive a realistic friction law based on micromechanical observations. It can be shown that the energy dissipation in a rubberlike viscoelastic material implies a frictional behaviour for the whole specimen, even if we neglect any predetermined local friction on the microscale. The friction coefficient advances to zero for both very high and low sliding velocities, but reaches a maximum for middle speed. This effect is known as hysteretic friction and represents the main part of rubber friction. Due to the multiscale character of the surface roughness, we have to model the problem on different length scales. Therefore the frictional behaviour on the microscale is analyzed and the homogenized characteristics result in a friction law, which is projected onto the macroscopic problem in a staggered procedure. The fractal road surface is approximated by a superposition of several harmonic functions. The three-dimensional numerical problem will be modeled with a four-node contact element. Its GAUSS points are projected to the closest point on the rigid surface, which is given as an analytical function
z = f(x,y)
. Even if we can use frictionless contact on the finest scale, we need to transport the frictional constitutive behaviour to the next scale. The friction coefficient will be adapted to the local conditions (normal stress, sliding velocity, etc.) obtained in the contact element.
In addition to the described approach for pure hysteretic friction, adhesional effects between the surfaces will be included into the contact model. It has to be analyzed how the transmission of tensile stresses influences the global frictional behaviour of rubber.
The properties of elastomer materials are sensitive to temperature changes. Rising temperatures have the same effect as a decreasing load frequency and vice versa. Because of this relation it is necessary to determine the magnitude of material heating due to internal energy dissipation.