2006 | OriginalPaper | Buchkapitel
From Asphalt to the Arctic: New Insights into Thermo-Mechanical Ratchetting Processes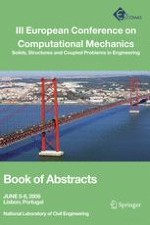 Erstes Kapitel lesen
Autor: James G A Croll
Verlag: Springer Netherlands
Observation of upward bulges forming on the asphalt overlays applied to the pavements of London (and incidentally many other Cities), have recently been re-explained as a form of thermal ratchet buckling process. At many orders of magnitude greater temporal and spatial scales, a similar process is suggested to be taking place in the seasonal growth of the characteristic feature within permafrost regions, particularly in the Arctic, often referred to as pingos.
Consideration of this specific example of analogous behaviour between asphalt and permafrost has led to a greater awareness that further close relationships between the mechanics of periglacial processes and those occurring in the morphology of asphalt might exist. This paper will explore some of these close mechanical analogies and in the process challenge in both fields some of the accepted wisdom as to the reasons for the formation of these analogous features. For example, it will be suggested that the thermo-mechanical process responsible for the development if ice-wedges within areas of permafrost are closely related, in terms of the thermo-mechanical processes at work, to the development of certain forms of cracking within sheets of asphalt.
Extending this analogous relationship between periglacial processes and asphalt failure phenomenon, it will be argued that the formation of ice-wedge-polygons in permafrost and the development of "alligator cracking" in asphalt also involve very similar mechanics. Furthermore, it will be suggested that the hysteretic effects arising from alternations of heating and cooling are responsible for many other related morphological features of asphalt and permafrost. Certain forms of motion of either ice or asphalt, that are difficult to explain in terms of the effects of gravity alone, become explicable in terms of a form of thermo-mechanical ratchetting. While in the case of periglacial features the interest is largely scientific curiosity, although even here there are significant implications for climate change, for asphalt the mechanics of failure have serious economic implications. By drawing-out the analogies between the mechanics of processes within these two materials it is argued that we will be in a better position to understand and mitigate the worst consequences from these various phenomena.