2013 | OriginalPaper | Buchkapitel
11. From Better to Best Regulation: Towards Competitiveness by Cross-Border Consistency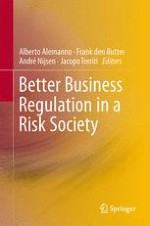 Erstes Kapitel lesen
Autor: Jooske Marijke Vos
Verlag: Springer New York
Abstract
This chapter gives from the perspective of the risk society and based on the outcome of recent research, a number of examples of loss of competitiveness resulting from non-transparent, non-streamlined, ineffective, double, or non-­harmonized legislation and enforcement between Member States and regions in Europe.
From this perspective we find that the lack of cross-border consistency—in this chapter also called "cross-border barriers"—lead to serious costs and burden for business.
Furthermore we learn that these costs and burdens have been out of sight during the more than 20 years of so called "better regulation initiatives" in Europe. The subsequent better regulation initiatives were basically Member State oriented and focused on European and national legislation separately. An integrated cross-border approach to control cross-border consistency does not exist neither at the EU- nor at a national level.
Introduction of a new multilayer approach in which assessment covers not only national and European impact but also cross-border effects is presented as a possible solution to this system failure. As part of the European Regulatory Impact Assessment (RIA) procedure, this approach could lead to a new legislative principle of "cross-border consistency" and furthermore to the development of a practical "cross-border consistency check" to transform the existing EU legislative procedure from "better" to "best regulation".
Such a new legislative principle could beforehand draw attention to possible ways to avoid adverse effects of differences in legislation and procedures. Solutions could be found by more harmonization or streamlining but also by more transparency and overview over the existing differences.
Furthermore the question is explored whether and how such a new principle of "cross-border consistency" fits into the existing EU as a Union of "conferred powers" based on the classical principles of legality, subsidiarity and proportionality. From the historical perspective is looked at the dualistic and Member State oriented approach of a growing Union. Its various methods and principles of regulation were aimed neither at harmonization cross-border nor at cross-border co-operation and transparency. From this historical perspective is concluded that cross-border consistency cannot be achieved by the Member States separately. To counter act the adverse effects of cross-border inconsistency the only solution seems to be to complement the Member State orientation of the past with a cross-border orientation of the future. A persistently greater focus on the cross-border context of European legislation, enforcement and supervisory procedures seems therefore highly advisable. A community based approach seems needed to reduce and remove cross-border inconsistency, to reduce its costs and burdens for business and improve competitiveness.
Comparatively, attention is paid to the United States of America (US) and—very briefly—also to Japan.
Given the American model with substantial differences in legislation between basically autonomous US states, similar costs and burdens for business as in Europe arise from non-consistent and non-transparent interstate regulation and not complementary enforcement procedures.
Unlike Europe and the US, Japan has not the same problems of non-consistent regulation between regions as in Europe and the US. Nevertheless Japan is not seen as role model for cross-border co-operation. But as Japan seems to be moving towards a more federal, less centralized and unified system, it can learn from the experiences in Europe and the US to be alert on cross-border consistency.