13.09.2017 | Ausgabe 11/2017 Open Access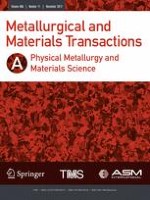 From Solidification Processing to Microstructure to Mechanical Properties: A Multi-scale X-ray Study of an Al-Cu Alloy Sample
Zeitschrift:
Autoren:

D. Tourret, J. C. E. Mertens, E. Lieberman, S. D. Imhoff, J. W. Gibbs, K. Henderson, K. Fezzaa, A. L. Deriy, T. Sun, R. A. Lebensohn, B. M. Patterson, A. J. Clarke
Wichtige Hinweise
Manuscript submitted April 05, 2017.
Abstract
We follow an Al-12 at. pct Cu alloy sample from the liquid state to mechanical failure, using
in situ
X-ray radiography during directional solidification and tensile testing, as well as three-dimensional computed tomography of the microstructure before and after mechanical testing. The solidification processing stage is simulated with a multi-scale dendritic needle network model, and the micromechanical behavior of the solidified microstructure is simulated using voxelized tomography data and an elasto-viscoplastic fast Fourier transform model. This study demonstrates the feasibility of direct
in situ
monitoring of a metal alloy microstructure from the liquid processing stage up to its mechanical failure, supported by quantitative simulations of microstructure formation and its mechanical behavior.