2013 | OriginalPaper | Buchkapitel
2. From the Atmosphere to the Mitochondrion: The Oxygen Cascade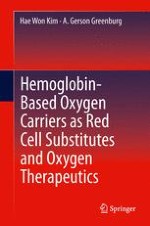 Erstes Kapitel lesen
Autor: George P. Biro
Verlag: Springer Berlin Heidelberg
Abstract
This chapter will provide a basic summary of the fundamentals whereby oxygen is delivered from the atmosphere to its ultimate site of utilization, the mitochondria, and the means whereby this delivery is regulated and optimized for efficiency and the "survival" of the organism as a whole. This occurs in four sequential steps comprising 1
. convective
mass transport exchange of air into and out of the alveolar spaces; 2.
diffusive
exchange of oxygen and carbon dioxide between alveoli and blood in pulmonary capillaries; 3.
convective
mass transport of blood from the pulmonary to the systemic circulation; and 4.
diffusive
exchange of carbon dioxide and oxygen in the systemic capillaries between blood and tissue cells. The critical link between the mass convective and diffusive movements in each of the respiratory and systemic circulations is hemoglobin with its important functional properties that amplifies the respiratory gas transport and assures efficient delivery of oxygen to all tissue cells. Those physiological processes will be summarized which enable the organism to respond to a wide range of metabolic demands for oxygen in an efficient way. A few examples of pathological entities will also be described that may compromise the efficiency of the process and of dysregulation that may result in cellular, tissue and and/or organ hypoxia and consequent dysfunction.