28.01.2019 | Chemical routes to materials | Ausgabe 9/2019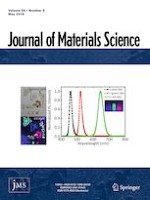 Full-color carbon dots with multiple red-emission tuning: on/off sensors, in vitro and in vivo multicolor bioimaging
Zeitschrift:
Autoren:

Feng Huo, Wenfei Liang, Yuran Tang, Wei Zhang, Xiaohong Liu, Desheng Pei, Huabin Wang, Weijiao Jia, Panpan Jia, Feng Yang
Wichtige Hinweise
Electronic supplementary material
Publisher's Note
Springer Nature remains neutral with regard to jurisdictional claims in published maps and institutional affiliations.
Abstract
Carbon-based luminescent materials have attracted much attention of many researchers in recent years for its better optical properties and biological applications. In this paper, we report the full-color CDs (from blue to red) with better quality red emissive by a facile and efficient synthesis route. The CDs show multiple red-emission tuning, unique nature of up-conversion photoluminescent under lower excitation and single-particle photoluminescent. The luminescence mechanism was also explored preliminarily. Especially, the results demonstrate that full-color CDs with multiple red wavelength tuning were achieved successfully by using only one precursor and this phenomenon was reasonably explored by using solvatochromism mechanism instead of only excitation-dependent or emission tuning. Moreover, the multicolor FL emission of CDs is caused by single particles rather than a mixture with diverse photoluminescent, which can be expanded to precision manufacture field on luminance, but not just limited to multidimensions biosensing. In addition, UCPL under lower excitation implies the more important potential applications in surface layer bioimaging, microarray detection and light activation technology in vivo and in vitro. The full-color CDs show high quantum yield (73.89%) and superior anti-photobleaching. Multicolor bioimaging, in vitro and in vivo, indicates its low toxicity in Hela cells and zebrafish. Besides, the as-prepared CDs were successfully used for multidimensions sensing, as Fe3+ metal ion sensing (on/off).