01.06.2011 | Ausgabe 3/2011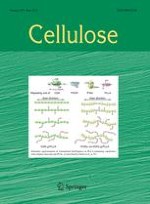 Functionalization of cotton fabrics with corona/air RF plasma and colloidal TiO2 nanoparticles
Zeitschrift:
Autoren:

D. Mihailović, Z. Šaponjić, M. Radoičić, S. Lazović, C. J. Baily, P. Jovančić, J. Nedeljković, M. Radetić
Abstract
This study discusses the possibility of using a corona discharge at atmospheric pressure and air RF plasma at low pressure for the cotton fibre activation prior to deposition of colloidal TiO
2
nanoparticles in order to enhance antibacterial, UV protective and self-cleaning properties. X-ray photoelectron spectroscopy (XPS) analysis confirmed the presence of TiO
2
nanoparticles on the surface of cotton fibres. XPS elemental mapping indicated that TiO
2
nanoparticles were more evenly distributed across the surface of untreated and corona pre-treated cotton fabrics in comparison with RF plasma pre-treated fabric. Atomic absorption spectroscopy measurements revealed that the equivalent total content of TiO
2
in the cotton fabrics pre-treated by corona and RF plasma was 31% higher than in the fabric that did not undergo any treatment prior to loading of TiO
2
nanoparticles. In order to achieve maximum bacteria (Gram-negative bacteria
Escherichia coli
) reduction, untreated cotton fabric had to be loaded with colloidal TiO
2
nanoparticles twice, but only once following corona or RF plasma pre-treatment. Deposition of TiO
2
nanoparticles onto cotton fabrics provided maximum UV protective rating of 50+. Extraordinary photocatalytic activity of TiO
2
nanoparticles deposited onto cotton fabrics was proved by self-cleaning of blueberry juice stains and photodegradation of methylene blue in aqueous solution under UV illumination.