26.03.2018 | Original Paper | Ausgabe 7-8/2018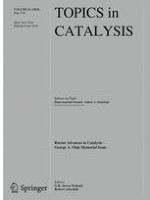 Functionalization of Syndiotactic Polystyrene via Superacid-Catalyzed Friedel–Crafts Alkylation
Zeitschrift:
Autoren:

Jong Yeob Jeon, Zachary Umstead, Gagan N. Kangovi, Sangwoo Lee, Chulsung Bae
Wichtige Hinweise
Dedicated to our colleague George A. Olah who pioneered acid-catalyzed organic reactions using superacid.
Abstract
Crystalline syndiotactic polystyrene (sPS) was functionalized by superacid-catalyzed Friedel–Crafts alkylation. Once a
tertiary
carbocation is generated by the reaction of
tertiary
alcohols and triflic acid, it subsequently reacted with aromatic ring of sPS, forming alkyl functionalized sPS. Various functional groups were incorporated into the phenyl ring of sPS using different substrates of
tertiary
alcohols including
tertiary
butanol, 2-methyl-2-butanol, and 2-methyl-2-hexanol. Degree of functionalization was conveniently tunable by changing the ratio of
tertiary
alcohol to styrene unit, and a maximum 80% of styrene rings was functionalized. Thermal properties of the functionalized sPSs were investigated by differential scanning calorimetry. Glass transition temperature and melting temperature of sPS were reduced after the modification.