2018 | OriginalPaper | Buchkapitel
30. Fundamentals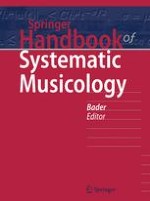 Erstes Kapitel lesen
Autor: Albrecht Schneider
Verlag: Springer Berlin Heidelberg
Abstract
This part of the handbook deals with sensation and perception of pitch, timbre, and loudness in humans, largely from a psychoacoustic perspective. Since there is broad range of publications available on subjects such as hearing (including anatomy and physiology), psychoacoustics as well as signal processing in relation to perceptual modeling (for comprehensive summaries see, e. g., [
30.1
,
30.10
,
30.11
,
30.12
,
30.2
,
30.3
,
30.4
,
30.5
,
30.6
,
30.7
,
30.8
,
30.9
]), it would be quite difficult, if possible at all, to condense relevant matter that has found detailed discussion elsewhere so as to fit into one part of this handbook. Rather, the approach taken here is selective such that phenomena that have found extensive treatment in works on psychoacoustics and audio processing (e. g., masking) will only be briefly addressed while a number of aspects usually given less attention shall be included. The perspective chosen aims at presenting facts and models but also turns to theoretical and methodological issues deemed necessary to understand lines of development in research. To this end, Chap. 30 of this part addresses fundamental concepts such as sensation, perception, and apperception. Since such concepts have been developed in a long process of research, and from certain philosophical backgrounds, it seems adequate to refer to at least some of the discussion found in disciplines such as philosophy, psychology, and neuroscience with respect to epistemology and research strategies. Further, ideas that are of special interest in regard to the history of psychophysics and in particular concepts developed by Theodor Fechner and Stanley Stevens are given a critical examination. To illustrate certain facts or problems, examples are provided (such as sound analyses or other empirical data). Though music perception in humans seems to be unique with respect to the involvement of cognitive factors, in research involving sensation and perception (e. g., of pitch and loudness) reference must also be made to other mammals we share basic anatomical, physiological and neuronal structures and functions with [
30.13
,
30.14
]. Sensation and perception of pitch and timbre basically is viewed as a functional relation between certain types of sound and processing of sounds within the sensory organ as well as on several levels along the auditory pathway (
AuP
). Functional in this context means that sensations and perceptions in general can be related to features inherent in sounds and that, notwithstanding variability in capabilities and performance among individuals, a relation of cause and effect holds that permits us to assume intra-individual as well as interindividual similarity and consistency of sensations and perceptions for the same set of stimulus conditions. At least it seems reasonable, as a working hypothesis, to assume the same objective causes will provoke similar effects, in human subjects, within a certain range.