19.02.2018 | Focus | Ausgabe 11/2018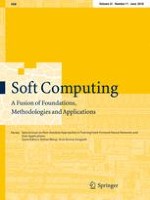 Fuzzy integral-based ELM ensemble for imbalanced big data classification
Zeitschrift:
Autoren:

Junhai Zhai, Sufang Zhang, Mingyang Zhang, Xiaomeng Liu
Wichtige Hinweise
Communicated by X. Wang, A. K. Sangaiah, M. Pelillo.
Junhai Zhai and Sufang Zhang have contributed equally to this paper.
Abstract
Big data are data too big to be handled and analyzed by traditional software tools, big data can be characterized by five V's features: volume, velocity, variety, value and veracity. However, in the real world, some big data have another feature, i.e., class imbalanced, such as e-health big data, credit card fraud detection big data and extreme weather forecast big data are all class imbalanced. In order to deal with the problem of classifying binary imbalanced big data, based on MapReduce, non-iterative learning, ensemble learning and oversampling, this paper proposed an promising algorithm which includes three stages. Firstly, for each positive instance, its enemy nearest neighbor is found with MapReduce, and
p
positive instances are randomly generated with uniform distribution in its enemy nearest neighbor hypersphere, i.e., oversampling
p
positive instances within the hypersphere. Secondly,
l
balanced data subsets are constructed and
l
classifiers are trained on the constructed data subsets with an non-iterative learning approach. Finally, the trained classifiers are integrated by fuzzy integral to classify unseen instances. We experimentally compared the proposed algorithm with three related algorithms: SMOTE, SMOTE+RF-BigData and MR-V-ELM, and conducted a statistical analysis on the experimental results. The experimental results and the statistical analysis demonstrate that the proposed algorithm outperforms the other three methods.