01.10.2016 | Research | Ausgabe 10/2016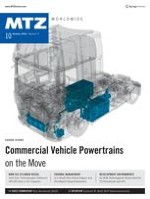 FVV Reports
Zeitschrift:
Autor:

Petra Tutsch
Existing and upcoming legislation on CO
2
emissions as well as a growing worldwide demand for energy requires a diversification of the fuel market, especially in terms of automotive applications. Natural gas, biogases and synthetically produced methane-based fuels play an essential role in passenger and freight transport to achieve the regulatory emission targets. The advantages of these fuels compared to conventional fossil liquid fuels are well known: CO
2
savings in the order of 20 % compared to gasoline are absolutely realistic. Further GHG reductions can be achieved due to the positive impact of CH
4
on the efficiency of the engine due to its high anti-knock properties and the wide range of its flammability limits. When using pure biogenic methane gas or blends, the CO
2
balance is almost neutral. Especially in combination with exhaust gas turbocharging, the engine internal potential of methane-based fuels can be fully exploited. The availability of objective criteria for assessing the anti-knock properties of gaseous fuels is therefore of utmost importance for the design of automotive and vehicle engines. In this context it was essential to examine the applicability of the AVL methane number, which was defined in the 1960s, to modern engines and combustion processes, especially the rendition of the knock resistance of gaseous fuels of various compositions. In a BMWi/AiF-funded research project, FVV has established an extensive gas mixture matrix for existing and future xNG fuels. Based on a systematic variation of individual components, the knocking behaviour of gaseous fuels with the same AVL methane number were analysed in a modern spark-ignited engine operated with different CH
4
fuels. The results showed significant differences in the real knock resistance of the natural gases. As a consequence, a modified open source knock detection algorithm had to be developed, as autoignition-related combustion phenomena were observed which could not be detected by a conventional algorithm. In addition to that, an untypical behaviour of knocking cycles contrary to conventional gasoline-powered engines had been discovered, which arises in an exceptionally early start of knock (MFB40 to MFB60) throughout all performed tests. Based on the investigations of this project FVV members may draw on optimised calibration factors and knock as well as burn rate simulation models for the design of gaseous-fuel engines.
×
...