2018 | Supplement | Buchkapitel
Gait Stability During Shod and Barefoot Walking and Running on a Treadmill Assessed by Correlation Entropy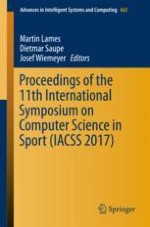 Erstes Kapitel lesen
Autoren: Michael Stöckl, Peter F. Lamb
Abstract
This study tests correlation entropy,
\(K_2\)
, as a measure of stability for gait analysis. An average of 13 strides from 10 participants in each combination of one footwear (barefoot vs shod) condition and one gait mode (walking vs running) were collected during treadmill walking and running. Sagittal plane ankle, knee and hip angular displacement and velocity data were used for analysis. Two-way repeated measures ANOVA showed a main effect for gait mode (
\(p=.03\)
) – running had lower
\(K_2\)
than walking, indicating higher stability. Although the sample of strides and participants was small, we speculate that the greater inertia for running helped stabilize movement control, making the running coordination pattern more resilient against small stride-to-stride perturbations.