01.09.2014 | Ausgabe 1/2014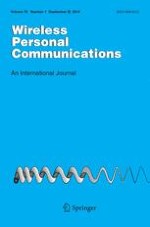 GAMMA: Genetic Algorithm for Link-Adaptive Joint Path and Capacity Design in Mobile Multi-Hop Relay System
Zeitschrift:
Autoren:

Hye J. Kang, Chung G. Kang
Abstract
In this paper, we consider a topology control problem that dynamically configures the path and capacity for constructing a multi-hop backbone network under the varying traffic load in TDD–OFDMA system. In order to deal with the co-channel interference among the different relay stations,
\(K\)
orthogonal subframes of OFDMA data regions are spatially reused. We present a joint path and capacity design problem that maximizes the average effective delay per bit while properly trading off the outage performance. Due to the complexity of optimal solution approach to this problem, we resort to a genetic algorithm that finds the mobile multi-hop architecture by solving the dynamic topology design problem and compare its solution to the results from the existing heuristic algorithms.