2018 | OriginalPaper | Buchkapitel
Gandhi and International Law:
Satyagraha

as Universal Justice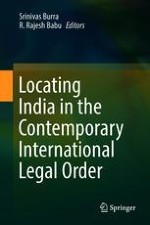 Erstes Kapitel lesen
Autor: S. G. Sreejith
Verlag: Springer India
Abstract
Gandhi's encounter with international law, as the discipline is understood in the classic epistemological and functional sense, is tangential. Hence, there are hardly a few legal discourses that have Gandhian perspectives on international law. However, if international law is viewed as a teleological enterprise, which in a sense would have the effect of orientalizing international law, many of the Gandhian ideals would become germane to the discipline. In view of that, this chapter first examines whether international law has a teleological function. Answering that question in the affirmative, it concludes that among the many posited telos, securing universality, of whatever variety, stands out as the true telos of international law, though the discipline is in a tragic forgetfulness of that telos. Then, the chapter appraises the theory and practice of satyagraha—a search for universal truth—as propounded and practiced by Gandhi to see the universalizing potential of satyagraha. Therein, the chapter argues that satyagraha is an individual means to search for universal justice. The chapter further argues that satyagraha—unlike the popular movement it is (of civil disobedience, noncooperation, strikes, marches, and fasting) aimed at political corrections and adaptations, has an often-ignored phenomenological side to it which makes it akin to Hegelian "teleological movement," helping humanity in its social self-becoming through individual self-perfecting. This universalizing potential of satyagraha qualifies it to become a process of international law, an international law which is conscious of its ontology and has no forgetfulness.