2017 | OriginalPaper | Buchkapitel
1. Gaseous Species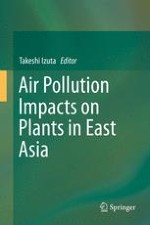 Autor: Shiro Hatakeyama
Verlag: Springer Japan
Abstract
Gaseous pollutants in East Asia are explained in this chapter. Sulfur dioxide (SO2) emissions in this region of the world are now decreasing, although these emissions in China are still the highest in the world. SO2 emission in South Korea decreased very quickly; in Japan, it took about 20 years to reduce the atmospheric SO2 concentration from 50 ppb to less than 5 ppb, whereas it took only 10 years in Korea to reduce the SO2 concentration by the same amount, owing to a switch in fuel sources from coal to natural gas.
The emission of nitrogen oxides (NOx = NO + NO2) is still increasing in China, and this emission causes an increase in tropospheric ozone. The transboundary transport of ozone and its precursors is affecting not only the countries surrounding China, but also North American countries.
Trends in ozone concentrations over the East China Sea were analyzed, based on aerial observations for up to 20 years. A clear increase in ozone was found, particularly in the boundary layer, lower than 1,500 m above sea level.