27.10.2016 | Ausgabe 4/2018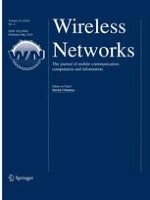 Gateway load balancing using multiple QoS parameters in a hybrid MANET
Zeitschrift:
Autoren:

Rashmi Kushwah, S. Tapaswi, Ajay Kumar, K. K. Pattanaik, S. Yousef, M. Cole
Abstract
A
Mobile ad hoc network
(MANET) is a self configurable wireless network in which mobile nodes communicate with each other in a multihop fashion without any pre-installed infrastructure. A MANET can be considered to be a standalone network. To enhance the connectivity of a MANET it can be connected to the fixed network, thus forming a heterogeneous network. The integration of MANET and the Internet is called a hybrid MANET which is facilitated by special nodes called Internet gateway nodes. Load balancing among gateways is a challenging task when a MANET is connected to Internet. Gateway nodes with higher loads will lead to disconnected networks and depletes the node's resources which include their batteries, memory and bandwidth quickly. Gateway selection based on the shortest path may increase traffic concentration on one particular gateway which leads to congestion and increases delay in the network. In this paper a QoS based load balancing mechanism has been proposed among multiple gateway nodes that provide communication between mobile nodes and fixed nodes in the Internet to select lightly loaded gateways so that more packets will be delivered to the fixed host in the Internet. The proposed QoS based scheme selects four QoS parameters that are (1) connecting degree, (2) interface queue length, (3) routing table entries and (4) hop count. A weight based method is used to select the gateway which combines all four QoS metrics. Simulation results demonstrate that when compared with individual parameter, the average ETE delay, queue size and traffic load of gateway generated by proposed algorithm is decreased by 17, 25 and 15 % respectively and when compared with existing schemes, the average ETE delay, queue size and traffic load of gateway is decreased by 25, 25 and 16 % respectively.