01.04.2019 | Ausgabe 4/2019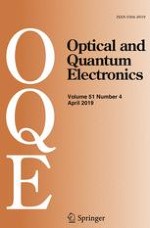 Gaussian beam scintillation index for slant path in weak turbulence: closed form expressions
Zeitschrift:
Autoren:

Asmaa M. Aly, Heba A. Fayed, Nour Eldin Ismail, Moustafa H. Aly
Wichtige Hinweise
Moustafa H. Aly: Member of OSA.
Publisher's Note
Springer Nature remains neutral with regard to jurisdictional claims in published maps and institutional affiliations.
Abstract
The scintillation index (SI) is an important issue in studying the effect of the atmospheric turbulence in the light waves. With the Rytov weak fluctuation theory, the SI is commonly referred to the Rytov parameter. The previous studies dealt with the plane wave and spherical wave models. Each of these gives an idea of how an optical beam will react to turbulence but are not realistic. One is infinitely long, while the other is an infinitesimal point source. The Gaussian beam wave is the most realistic of the optical waves, but also the most complex to use for calculations. In this paper, a closed form expression for Gaussian beam SI propagation in slant path and through weak fluctuation is derived using the polynomial model of the refractive index structure parameter. The slant path SI model of the plane and spherical waves can be generated from the SI expression of Gaussian beam. The analytic expressions are obtained and are then used to analyze the effect of propagation distance, transmitter/receiver heights, and elevation angle on the SI. Signal to noise ratio and bit error rate are calculated for performance evaluation showing a significant enhancement at elevation angles greater than 45°.