2013 | OriginalPaper | Buchkapitel
Gender Differences in Hospitalization for Acute Myocardial Infarction in Lombardy During the Years 2000–2010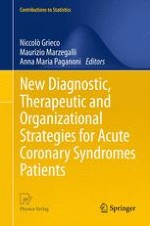 Autoren: Elena Corrada, Cristina Mazzali, Pietro Barbieri, Giuseppe Ferrante, Maurizio Marzegalli, Marco Mennuni, Luca Merlino, Patrizia Presbitero, Piera Angelica Merlini
Verlag: Springer Milan
Abstract
The industrialized world is undergoing epidemiologic variations in acute coronary syndrome and the female gender is particularly involved in these changes. Our study was designed based on administrative databases of all hospital admissions in the Lombardy region during the years 2000–2010 which enabled us to obtain complete and updated information regarding the gender-related epidemiologic situation.
Women present an incidence and attack rate of acute myocardial infarction which is approximately half that of men, but this difference is influenced by age, type of infarction, and the period of time examined. The female population with acute myocardial infarction is generally 10 years older than the male population (mean age 76 vs. 66 years), and above 75 years of age the number of infarctions in women exceeds that in males, even though incidence is still higher in the male gender. ST elevation myocardial infarction is the most frequent type of infarction for both sexes, but non-ST elevation myocardial infarction is more frequent in women than in men, and unspecified myocardial infarction is similar in both sexes. Overall incidence and attack rate of acute myocardial infarction have dropped in both sexes over the last few years; this reduction is mainly supported by the decrease in ST elevation myocardial infarction in males. Non-ST elevation myocardial infarction significantly increases even threefold, in the same way for both sexes, after the introduction of troponin. Unspecified MI is similar in both genders and decreases over the years to reach very low numbers.
Even though lower in number, the incidence of acute myocardial infarction in females is not insignificant and, contrary to popular belief, must be considered a health problem in women as well as men. Diagnostic–therapeutic protocols during acute myocardial infarction must take into account the wide range of elderly women who suffer infarction and are not usually included in randomized clinical trials. Health organizations must be equipped to handle ever increasing aging populations consisting of frail patients with comorbidities and social–family problems.