04.11.2017 | Ausgabe 1/2018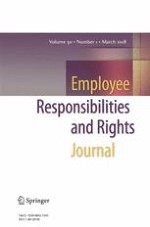 Gender differences in the effect of downward influence strategies on perceived stress and general-health: The mediating role of organizational justice
Zeitschrift:
Autoren:

Nachiketa Tripathi, Vinit Ghosh
Wichtige Hinweise
An earlier version of this paper was presented at the 31st International Congress of Psychology held at Yokohama, Japan on July 24-29, 2016.
Abstract
This study examined the effects of supervisor's downward influence strategies (DIS) on subordinates' perceived stress and general-health. The influencing effects of DIS were also analyzed in the light of the mediating effects of organizational justice dimensions, namely, distributive justice (DJ), procedural justice (PJ) and interactional justice (IJ). Responses were collected from three organizations through survey method (Males,
N
= 91; females,
N
= 74). Gender differences were observed in the perceptions of DIS which affected perceived stress and general-health conditions of both male and female employees. Further, the results revealed that supervisor's task-oriented DIS (e.g., negative sanctions) increase perceived stress and negative health conditions in both genders. Supervisor's people-oriented DIS (e.g., ingratiation) lowered perceived stress and triggered botheration-free existence in the employees. The mediation analysis of justice dimensions indicated that, in the case of males, IJ and PJ positively mediate people-oriented DIS effects on stress and general health. However, in females, supervisor's ingratiation and positive sanctions helped in ameliorating stress through their positive PJ perceptions. Strong indirect effects of supervisor's task-oriented strategy (e.g., rationality) were observed on male's stress and general-health through IJ. On the other hand, supervisor's rationality and assertiveness reduced female employees' perceived stress through their PJ and DJ perceptions, respectively.