2011 | OriginalPaper | Buchkapitel
1. General Framework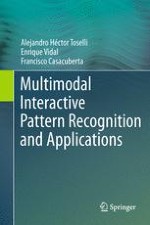 Autoren: Dr. Alejandro Héctor Toselli, Dr. Enrique Vidal, Prof. Francisco Casacuberta
Verlag: Springer London
Abstract
Lately, the paradigm for Pattern Recognition (PR) systems design is shifting from the concept of full-automation to systems where the decision process is conditioned by human feedback. This shift is motivated by the fact that full automation often proves elusive, or unnatural in many applications where technology is expected to assist rather than replace the human agents.
This chapter examines the challenges and research opportunities entailed by placing PR within the human-interaction framework; namely: (a) taking direct advantage of the
feedback
information provided by the user in each interaction step to improve raw performance; (b) acknowledging the inherent
multimodality
of interaction to improve overall system behavior and usability and (c) using the feedback-derived data to tune the system to the user behavior and the specific task considered, by means of
adaptive learning
techniques.
One of the most influential factors for the rapid development of PR technology in the last few decades is the nowadays commonly adopted assessment paradigm based on labeled training and testing corpora. This chapter includes a discussion about simple but realistic "
user models
" or
interaction protocols
and
assessment criteria
which allow the successful labeled corpus-based assessment paradigm to be applied also in the interactive scenario.
This chapter also provides an introduction to general approaches available to solve the underlying
interactive search
problems on the basis of existing methods to solve the corresponding non-interactive counterparts and an overview of modern machine learning approaches which can be useful in the interactive framework.