19.08.2018 | Methodologies and Application | Ausgabe 17/2019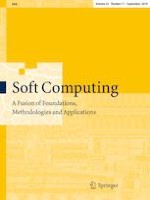 General interval approach for encoding words into interval type-2 fuzzy sets based on normal distribution and free parameter
Zeitschrift:
Autoren:

Zizhou Su, Dan Hu, Xianchuan Yu
Wichtige Hinweise
Publisher's Note
Springer Nature remains neutral with regard to jurisdictional claims in published maps and institutional affiliations.
Abstract
The enhanced interval approach (EIA) is one of the most important approaches for constructing interval type-2 fuzzy set (IT2 FS) from data intervals that are collected from a survey. However, the uniform distribution used in EIA is rough. And the shape (Left-shoulder, Right-shoulder or Interior) of the fuzzy set (FS) affects the value of the membership function (MF) of the final IT2 FS a lot. To guarantee that the final IT2 FSs are consistent with fuzzistics characteristic of the original data and improve robustness, this paper proposes a normal distribution associated with free parameter (FP) as the supplement of uniform distribution in the data part of EIA. Furthermore, a general frame for encoding words from data intervals, called general interval approach (GIA), is built. GIA includes a data part, fuzzy set (FS) part and footprint of uncertainty (FOU) part. The data part maps data intervals to probability distributions, in which normal distribution with FP and uniform distribution are included. The FS part encodes the probability distributions produced by the data part to fuzzy MFs. Gaussian MF is discussed, and the parameter transformation table is obtained. In the FOU part, the FOU of IT2 FS is built by collecting the obtained T1 FSs. The way to construct a Gaussian FOU is, for the first time, proposed in this paper. The validity of GIA is verified by experiments. Compared with EIA, the IT2 FSs built by GIA can keep the statistic characteristic of the original data intervals in the greatest degree and improve the robustness owing to the FP.