2017 | OriginalPaper | Buchkapitel
1. General Introduction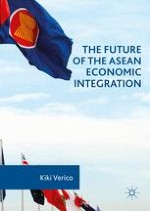 Autor: Kiki Verico
Verlag: Palgrave Macmillan UK
Abstract
This chapter explains that this study discusses ASEAN economic integration from both the perspective of time span (trade, investment, and finance) and framework (bilateral, sub-regional, regional, and regional plus). This comprehensive study of ASEAN's economic integration is considered timely given that ASEAN was inaugurating its economic community by the end of 2015. This introduction chapter provides a brief overview of the entire chapters of the study to provide readers with a general overview of the study contents before going into the details in each chapter. It takes a comprehensive approach on the economic integration of ASEAN through an analysis of its various economic agreements from ASEAN Free Trade Area (AFTA) in Chap.
2
, Bilateral Free Trade Agreement (BFTA) in Chap.
3
and the International Tripartite Rubber Organization (ITRO) in Chap.
4
. All of these chapters discuss how these several economic arrangements affect investment inflows as part of trade and investment relations. Therefore, the dependent variable which is expected to be influenced by these arrangements is Foreign Direct Investment (FDI). In Chap.
5
, this study discusses the ASEAN Economic Community (AEC), which started at the end of 2015. This AEC arrangement, according to economic community theory, is designed specifically to increase FDI inflows. In this chapter, this study uses both the theoretical perspectives and empirical results in its analysis, based on a field survey at firm-level in Indonesia. Chapter
6
discusses financial integration in ASEAN and this chapter as its name suggests, does not analyze the impact of trade on investment as the previous chapters but further observes the financial sector. Finally, given the discussion on real sector integration of trade and investment and monetary integration of the financial sector, the last chapter, Chap.
7
tries to foresee the potential future of ASEAN in completing its regional economic integration from trade of goods to financial integration.