2020 | OriginalPaper | Buchkapitel
General Smart City Experts' Perceptions of Citizen Participation: A Questionnaire Survey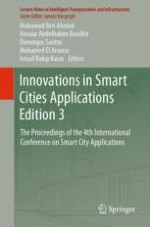 Autoren: Jihane Tadili, Hakima Fasly
Abstract
Smart cities gained the support of scientists, urban planners, and governments all over the world because they suggest innovative solutions for all urban development problems using Information and communication technologies (ICT).
Citizen participation is the key challenge to develop a smart city project since the main objective of a smart city is to improve the quality of life of citizens. Thus, decision-makers should cooperate with citizens and stakeholders.
In this article, we will explain the current state of the art in the process of empowering citizens within smart cities and detail the results of a survey conducted in the frame of the Smart City Expo event held in Casablanca in April 2018.
We administered the survey to key stakeholders in smart cities spread all over the world like city council representatives, technology developers and scientists (n = 20 respondents) in order to evaluate citizen participation in a smart city in practice.