2018 | OriginalPaper | Buchkapitel
9. Generalists and Specialists Service Career: A Case of the Nepalese Civil Service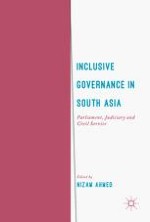 Erstes Kapitel lesen
Autor: Bharat Raj Gautam
Abstract
The main objective of this chapter is to discuss the relationship between two types of bureaucrats, generalists and specialists, in the Nepalese Civil Service (NCS). The NCS was set up in the 1960s, based on the first Civil Service Act, 1956. The NCS at present incorporates administrative, economic planning, engineering, judicial, foreign, audit, forest, agriculture, education and miscellaneous services as provided by the amended Civil Service Acts. In addition, the Health Service and the Parliamentary Service are also part of the civil service, regulated by their own Acts. Overall, the NCS is influenced by the Weberian model of bureaucracy, with formal hierarchical structures, and rules and regulations to govern all behavior. In this chapter, generalists refers to employees who have overall managerial competencies. Specialists refers to employees who have a particular field of knowledge and skills. The NCS is made up of both generalists and specialists. Employees from the Administrative Service, Education Service and Judicial Service, having non-technical education, are called generalists. Employees from forestry, agriculture and engineering, having technical education, are called specialists. Whether relating to the generalist service career or the specialist service career, both categories are known as bureaucrats. Professionalism is expected from both types of bureaucrats. To ensure professionalism in the NCS, Adhikari,
The 4th Amendment of the Civil Service Act, 1993
(2015) has created the six clusters of the ten civil services. Broadly, such clusters have been based on technical field or non-technical field (generalists). However, the NCS is dominated by generalists. Therefore, employees from specialist services seem to be in career tension, as they have limited opportunities for leadership roles in the NCS. Therefore, there is a conflict between these two types of bureaucrats, which may have hindered their joint contribution to policy issues, decision-making and service delivery. The data in this chapter is based on interviews with both categories of bureaucrats working in the NCS. The relevant Acts and Rules are also considered.