07.12.2016 | Ausgabe 1/2017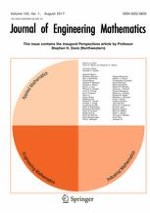 Generalized analytical solution to wave interaction with submerged multi-layer horizontal porous plate breakwaters
Zeitschrift:
Autoren:

Zhichao Fang, Longfei Xiao, Tao Peng
Abstract
A generalized analytical solution to wave interaction with multi-layer submerged horizontal porous plate breakwaters has been derived in the context of linear potential theory. A two-dimensional problem with
N
horizontal porous plate layers in a finite water depth has been formulated, and the viscous effects of the porous plates are considered using Darcy's law. In solving the spatial velocity potentials using the matched eigenfunction expansion method, techniques based on artificial potential splitting are employed to avoid complex dispersion relations. The developed analytical solution is verified by comparison with results of previous research on single- and double-layer cases and validated with the results of physical model tests. The analytical solution gives scientific insights into wave interaction with the breakwater and provides an effective and practical tool for designing its parameters. The velocity fields are computed and the way the horizontal porous plates play their role in attenuating fluid motion is illustrated. The effects of various parameters (i.e., plate submergence, width, porosity, layer number, and wave parameter) on the overall hydrodynamic and wave dissipation performance are discussed. The results indicate that a breakwater with multi-layer horizontal porous plates exhibits improved performance.