2016 | OriginalPaper | Buchkapitel
Generating Renewable Energy for the Material Realization of Sustainable Development: What Do We Need from Multilateral Cooperation, the Climate Change and the International Trade Regimes?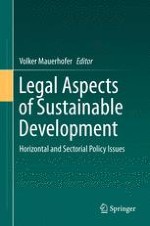 Erstes Kapitel lesen
Autor: Marco Citelli
Abstract
This chapter investigates certain aspects of multilateral cooperation in the field of renewable energy as well as the role that renewable energy occupies within the climate change regime and the questions that both the generation of energy from renewable sources and the use of renewable energy related technologies are growingly posing to the agents of global trade. The premise is that production of energy from renewable sources is the key driver for the material realization of sustainable development. Inter State development cooperation can variously impact on the dynamics of the renewable energy sector. Different branches of public international law can also determine trends in this respect. This is why the case of the International Renewable Energy Agency (IRENA) will be analysed. International rules requiring States to foster the promotion of renewable energy within the climate change regime will then be addressed in light of some results of the Lima Summit (UNFCC-COP20). Finally, certain WTO disputes will be examined in order to identify the limits that international trade law imposes to States in relation to certain specific energy policy choices and to determine if, and to what extent, a space within the WTO system exists in order to accommodate WTO law inconsistent measures however meant to sustain the production of clean energy. The overall goal is to see what is required from international organizations, climate change and trade law to foster the dissemination of renewable energy thereby favouring the material realization of sustainable development.