2016 | OriginalPaper | Buchkapitel
1. Generic Deterministic Models of Prokaryotic Gene Regulation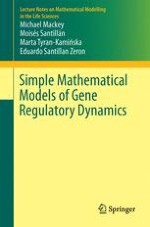 Autoren: Michael C. Mackey, Moisés Santillán, Marta Tyran-Kamińska, Eduardo S. Zeron
Abstract
The central tenet of molecular biology was put forward some half century ago, and though modified in detail still stands in its basic form. Transcription of DNA produces messenger RNA (mRNA, denoted
M
here). Then through the process of translation of mRNA, intermediate protein (
I
) is produced which is capable of controlling metabolite (
E
) levels that in turn can feedback and affect transcription and/or translation. A typical example would be in the lactose operon of Chap. 
5
where the intermediate is
β
-galactosidase and the metabolite is allolactose. These metabolites are often referred to as effectors, and their effects can, in the simplest case, be either stimulatory (so called inducible) or inhibitory (or repressible) to the entire process. This scheme is often called the 'operon concept'.