2016 | OriginalPaper | Buchkapitel
Genetic Algorithms for Constrained Tree Problems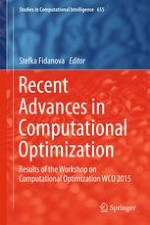 Erstes Kapitel lesen
Autoren: Riham Moharam, Ehab Morsy
Abstract
Given an undirected weighted connected graph
\(G=(V,E)\)
with vertex set
V
, edge set
E
and a designated vertex
\(r \in V\)
, this chapter studies the following constrained tree problems in
G
. The first problem, called
Constrained Minimum Spanning Tree Problem
(CMST), asks for a rooted tree
T
in
G
that minimizes the total weight of
T
such that the distance between the
r
and any vertex
v
in
T
is at most a given constant
C
times the shortest distance between the two vertices in
G
. The second problem,
Constrained Shortest Path Tree Problem
(CSPT) requires a rooted tree
T
in
G
that minimizes the maximum distance between
r
and all vertices in
V
such that the total weight of
T
is at most a given constant
C
times the minimum tree weight in
G
. It is easy to conclude from the literatures that the above problems are NP-hard. This chapter presents efficient genetic algorithms that return (as shown by our experimental results) high quality solutions for those two problems.