01.10.2011 | Original Article | Ausgabe 4/2011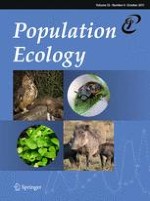 Genetic diversity and structure of a Mediterranean endemic plant in Corsica (
Mercurialis corsica

, Euphorbiaceae)
Zeitschrift:
Autoren:

Jérémy Migliore, Alex Baumel, Marianick Juin, Katia Diadema, Laetitia Hugot, Régine Verlaque, Frédéric Médail
Abstract
The island of Corsica is a Mediterranean hotspot of plant biodiversity characterized by a high rate of plant endemism, but also by a lack of studies combining genetic diversity and conservation. In Corsica, the dioecious and Corso-Sardinian endemic
Mercurialis corsica
Cosson (Euphorbiaceae) occurs across a wide ecological gradient, but the number of populations have decreased considerably over the last century. The main aim of this study was to examine the patterns of genetic diversity occurring in the Corsican populations of
M. corsica
, depending on their location and demographic structure. The rDNA sequences did not show the existence of any polymorphism, whereas the cpDNA sequences revealed the divergence of the western Corsican populations. By contrast, when the AFLP markers were examined, although significant levels of differentiation were detected between populations, no distinct geographical patterns were observed except for the pronounced isolation of the Cap Corse genotypes. No significant correlations were found to exist between population size and the genetic diversity indexes used. The results of this study suggest that
M. corsica
has undergone a complex gene flow history involving past population admixtures, followed by fragmentation processes resulting in population differentiation but no geographical patterns of isolation. These results support the existence of three evolutive conservation units which have to be monitored in priority to determine whether the current pattern of demographic structure is still declining or has stabilized.