01.06.2015 | Research Article | Ausgabe 2/2015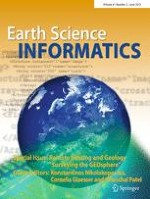 Geoarchaeological observations in the wider area of Nemea using airphotos and GIS
Zeitschrift:
Autor:

Konstantina Mexia
Wichtige Hinweise
Communicated by: Konstantinos Nikolakopoulus
Published in the Special Issue
Remote Sensing and Geology "Surveying the GEOsphere
" with Guest Editors Dr. Konstantinos Nikolakopoulus, Dr. Cornelia Glaesser and Dr. Nilanchal Patel
Abstract
The northeastern part of the Peloponnese is tectonically active and it is the object of study of many geomorphologists since it provides information for the evolution of the terrain, comparable with other similar areas. The study area in this paper is a small segment of northeastern Peloponnese, where we try to understand the evolution of the relief using geomorphological and archaeological data. We study the flow of the river systems Asopos and Nemeas - which are in the wider area of the Nemea archaeological site - in order to understand how the evolution of these rivers in time affected the overall image of the area. In order to access our goal, aerial photographs and GIS analysis were used. The geomorphological and tectonic analysis of the area and the development and evolution of settlements therein (based on archaeological studies) gave us clues regarding the shape of the terrain over time. The main factors affecting the shape of the terrain (intense tectonic activity and headward erosion) were not adequate reasons - in our case - to effect immediate abandonment of the area (since, in the human timescale, they are fairly slow processes). Their effect, however, is evident over time, in the form of gradual abandonment of sites, movement of settlements or the creation of new settlements.