01.02.2020 | Original Article | Ausgabe 4/2020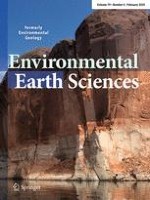 Geochemistry and associated human health risk through potential harmful elements (PHEs) in groundwater of the Indus basin, India
Zeitschrift:
Autoren:

Anand Kumar, Soumendu Shekhar Roy, Chander Kumar Singh
Wichtige Hinweise
Electronic supplementary material
Publisher's Note
Springer Nature remains neutral with regard to jurisdictional claims in published maps and institutional affiliations.
Abstract
Inorganic contamination in groundwater has become a major health concern because of its acute and chronic health impacts. To investigate the major hydro-geochemical processes controlling groundwater quality in a part of the Indus river basin, 29 groundwater samples were collected and tested for major ions and potentially harmful elements (PHEs) including Mn, Cu, Cd, Cr, Pb, Fe, and Zn. The cations and PHEs were measured using the atomic absorption spectrophotometer and the anions were analyzed using ion chromatograph. Anthropogenic activities and rock–water interactions are the major factors controlling groundwater quality, along with silicate weathering and evaporation. Ca–HCO3 is the dominant water facies, followed by Na–HCO3 and Na–Cl water facies. Among PHEs, Pb is the most dominant contaminant with 21 samples exceeding WHO guidelines followed by Cr and Fe in 27% and 24% of samples, respectively. Health risk to the population for both dermal and direct ingestion was assessed by calculating chronic dose index (CDI), hazardous quotient (HQ), and hazardous index (HI) for children and adults. HQ through ingestion was highest for Cd because of its low reference dose value. HI for dermal exposure was found to be safe for both children and adults, with values below 1; for ingestion 14 samples had high HI > 1 for adults, and 27 samples for children. High HI values indicate that at a few locations, the groundwater is not suitable for consumption and can cause serious health implications. Proper planning for mitigation is required and large-scale testing along with sharing of wells among neighbors is recommended for reducing exposure.