01.10.2020 | Thematic Issue | Ausgabe 19/2020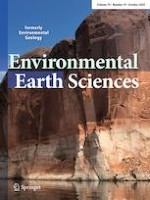 Geochemistry of surface waters and weathering effects in the upper catchment of the Ctalamochita River, Cordoba's Sierras Pampeanas (Central Argentina)
Zeitschrift:
Autoren:

Georgina Destéfanis, Jorge O. Martínez, Guillermo Ribeiro, Diego M. Gaiero
Wichtige Hinweise
This article is a part of the Topical Collection in Environmental Earth Sciences on "Advances in Environmental Geochemistry" guest edited by Dr. Eleanor Carol, Dr. Lucia Santucci and Dr. Lia Botto.
Publisher's Note
Springer Nature remains neutral with regard to jurisdictional claims in published maps and institutional affiliations.
Abstract
The chemical compositions of waters from the upper basin of the Ctalamochita River draining the Córdoba Pampean Ranges were analyzed to determine the chemical signature related to different forcings, geochemical processes, and solutes sources. The catchment has four sub-basins: Santa Rosa River, Grande River, Quillinzo River and De Los Sauces River. Most of the riverine chemical compositions are dominated by the HCO3−–Ca2+-type to Ca2+–Na+–Mg2+. The specific conductivity is higher in the Santa Rosa and De Los Sauces rivers (347.59 and 409.00 μS/cm, respectively) than in the Grande and Quillinzo rivers (125.56 and 87.54 μS/cm, respectively). Mineral hydrolysis of andesine and oligoclase and the dissolution of calco-magnesian limestone, are the main dissolved solids contributors to the river waters. Higher contribution of bicarbonate ions is associated to those sub-basin having quarry mining activity. Saturation indexes show that the Santa Rosa and De Los Sauces rivers are saturated with calcite, dolomite, and talc.