2008 | OriginalPaper | Buchkapitel
Geocollaboration in Hazard, Risk and Response: Practical Experience with Real-Time Geocollaboration at Québec Civil Security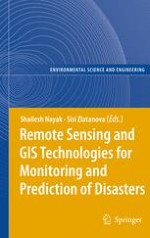 Erstes Kapitel lesen
Autoren: Charles Siegel, Donald Fortin, Yves Gauthier
Verlag: Springer Berlin Heidelberg
The pertinence of outputs from geographic analysis and airborne- and space-based sensors to hazard recognition, risk analysis and emergency response is well established. They are contributors – remotely-sensed or analytical information is not sufficient by itself. Useful application of geospatial data requires information from multiple sources, first during analysis and then to provide geographical context. The resulting product is useful to emergency management (EM)emergency management (EM) specialists, planners and other decision makers. Even then, however, these users may not have the capability to apply the information effectively. The problem is one of delivery: how to deliver the information rapidly and accompany it with the expertise required for use.
The delivery problem is particularly acute in decision making in the EM response phase. During response, the utility of geospatial information is related to the time it takes to acquire, process and analyze data, and then make it pertinent in the decision environment. Furthermore, these steps are not simply linear – analysis of the geospatial information may have to be adjusted, and very rapidly, using
in situ
measures and observations.
One way to resolve the problem is to add a georeferenced, real-time collaboration environment to the software and procedures used to produce geospatial information. This combination allows adjustments in analysis and interpretation, along with the input of expertise from multiple domains. In this paper, we describe applications of geospatial information with software for live Internet geocollaboration in civil security operating in the Quèbec Ministry of Public Security. The illustrations come from real emergency management situations.