2019 | OriginalPaper | Buchkapitel
3. Geologic Framework of Florida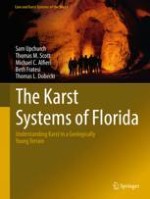 Erstes Kapitel lesen
Autoren: Sam Upchurch, Thomas M. Scott, Michael C. Alfieri, Beth Fratesi, Thomas L. Dobecki
Abstract
The Florida Platform is a series of Middle Jurassic to Quaternary evaporite, carbonate, and siliciclastic sediments deposited on the relatively stable, passive margin of the North American Plate. Faulting of pre-Middle Jurassic basement rocks created structures that have affected deposition through the Cenozoic. The Georgia Channel System, a structural trough, limited siliciclastic transport from the north to the peninsula until the Miocene.
On the Florida Platform, siliciclastic deposition predominated in the north, while carbonate and evaporite sediments formed to the south. The Cretaceous saw carbonate deposition advance northward across the Platform, with the Eocene Avon Park and Ocala limestones and Oligocene Suwannee Limestone deposited as carbonate production was at its most widespread. Deposition of the Miocene Hawthorn Group marked the progress of siliciclastic sediment southward across the Platform once again. The siliciclastic supply from the north waned slightly in the Quaternary, freeing the southern Platform for deposition of the Pleistocene Miami and Key Largo limestones.
Eocene and Oligocene limestones form the Floridan Aquifer System, a highly productive karstic aquifer. Miocene siliciclastics form the Intermediate Aquifer System and Confining Unit. The Surficial Aquifer System (including the Biscayne Aquifer of southeastern Florida) is comprised of Pliocene-Holocene siliciclastics and carbonates.
The geomorphology of the Florida Platform consists of east–west trending highlands in the north and west of the state, and north–south trending highlands down the middle of the peninsula, flanked by coastal lowlands. In every geomorphic district of Florida except one, karst features are ubiquitous but vary in form and degree of development.
It is necessary to understand the geology of Florida, including the ages of carbonate strata, in order to place Florida's karst in context. This chapter introduces the stratigraphy, aquifer systems, and geomorphology of Florida. The ages of major geologic events and deposits in the following paragraphs are based on the geologic time scale by Walker et al. (
2012
).