2019 | OriginalPaper | Buchkapitel
2. Geological Materials: An Overview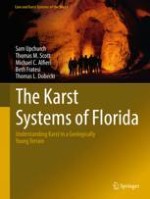 Erstes Kapitel lesen
Autoren: Sam Upchurch, Thomas M. Scott, Michael C. Alfieri, Beth Fratesi, Thomas L. Dobecki
Abstract
In Florida's mantled, eogenetic karst, the sedimentology and mineralogy of siliciclastic and carbonate geological materials greatly impact karst development. Florida's cover materials are integral parts of the karst development story, and they can present hazards themselves. Cover materials are mostly allochthonous quartz, feldspars, clay minerals, while carbonate rocks consist of calcite with some aragonite and dolomite. Magnesium content of calcite affects diagenetic and karst processes very little; but aragonite dissolves preferentially, and dolostone deposits can be resistant to dissolution. Therefore, it is important to understand the mineralogy of geologically young, carbonate sediments and rocks.
Marine sediments in Florida are predominantly well-sorted, fine-to-medium sands, sourced from areas with limited grain sizes and deposited by waves, currents, and wind. Eolian sands are poorly consolidated with frosted grain surfaces. Grain shapes range from angular shells through variable sands to rounded pebbles and cobbles.
Under-consolidated clay beds in the Miocene Hawthorn Group (Chap.
3
) act as confining layers despite high porosities, and the fine-grained sediments have the potential to flow if sinkholes develop. Smectites are common expansive clays in the Hawthorn Group. The Hawthorn clays were significantly altered during two periods of intense weathering in the Late Miocene-Early Pliocene and Late Pliocene-early Pleistocene. The first weathering event formed a prominent paleosol throughout central and northern Florida.
Florida's carbonate rocks were deposited in broad, shallow seas, creating flat, laterally extensive layers. The overlying siliciclastics, in contrast, represent complex environments resulting in sediment facies with great lateral and vertical variations. This chapter describes the origins and properties of these sediments.