2020 | OriginalPaper | Buchkapitel
Geometric Non-linear Form-Finding Design for Optimal Tied Arch Bridge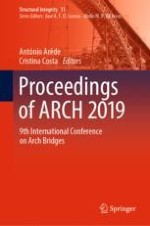 Erstes Kapitel lesen
Autoren: Esko Järvenpää, Rauno Heikkilä, Matti-Esko Järvenpää
Abstract
The article discusses the overall optimization of the tied arch bridge. The parabolic arch is hardly never the best shape of arch. The optimum height which gives the minimum volume of the load-bearing structure is solved mathematically in the article. The span length relation to arch height
l/h
 = 2,309 gives the minimum load bearing material amount. Practical examples are calculated numerically by using iteration, based on geometric vector algebra solution in finding the arch thrust line. The iteration is performed so that the weight of the arch is in the correct position and has the correct size during each iteration round. The geometry changes after each calculation round. The area of the cross-section is determined by the axial force along the arch. The comparison calculations are made for the selected tied arch bridge for four different heights.
The arch structure is a concrete filled steel tube. The assumption is that the concrete is cast into the tube when the arch is still supported by the temporary structures. The optimum rise relation
l/h
, for the example bridge is 2,55. The bridge has a span of 250 m, and the weight of superstructure is 200 kN/m. Calculations are based on permanent loads, selected stress level and unit prices. The calculation takes into account the weights of the tie member and the hangers. The cost increase related to the arch height is estimated. An example calculation produces an optimal rise relation of
l/h 
= 3,2.
The calculations are prepared only for permanent gravity loading. Stability of the arch in lateral direction is not discussed in the paper. Stability in the plane of tied arch will not be decisive problem. It is not handled in the paper. The article does not take opinion on the bridge aesthetics.