01.06.2015 | Original Article | Ausgabe 11/2015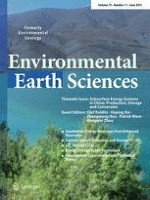 Geomorphoclimatic characteristics and landform information in the Ejina Basin, Northwest China
Zeitschrift:
Autoren:

Bingqi Zhu, Jingjie Yu, Patrick Rioual, Yan Gao, Yichi Zhang, Leilei Min
Wichtige Hinweise
Electronic supplementary material
The online version of this article (doi:
10.​1007/​s12665-014-3927-9
) contains supplementary material, which is available to authorized users.
Abstract
Natural environment of mid-latitude deserts of Central Asia is undergoing rapid changes. One of its elements is the relief. What needs to be particularly emphasized is its morphogenesis and landform evolution. In this study, a geomorphological research in the Ejina Basin (Inner Mongolia) is carried out with regard to identifying the main landforms and the contemporary geomorphic processes. We consider ancient and modern landforms as a unit and provide a general explanation for their evolution. Related environmental indications of existing landforms are discussed on the basis of climate geomorphology. Results show that the current basin is under the conditions favorable for the development and dominance of landforms originated from physical processes such as desiccation–deflation and aeolian. The landform system is characterized by its variable structure which is conditioned by specific hydrodynamics processes that existed during glaciations. It is suggested that landform patterns in Ejina are under the strong influence of rapid and/or intensive geomorphic processes. These signatures reflect the regional dynamics of landform evolution as characterized by a very effective integration of tectonic and climate-driven morphogenetic processes. Based on the present day climate data, we infer an obvious linkage of desert gorges and pediments in the basin to ancient humid phases, which provided high energy runoff for the formation of these landforms and were associated with erosional features under more humid and colder climate during the last glacial period. Desert plains and aeolian dunes in the central basin are the related products of contemporary climate. Clear evidences proving the landform inconsistency and landform instability in the Ejina are presented, indicating that the main geomorphic unit is experiencing transformation from alluvial plain to desert plain and then to aeolian dunes. However, the geomorphodiversity in the Ejina should be a compound result of complex surficial processes other than glaciation. Frost weathering, fluvial/alluvial action, desiccation–deflation and aeolian processes as well as climatic changes have played important roles.