2018 | OriginalPaper | Buchkapitel
Geotechnics of Soft Ground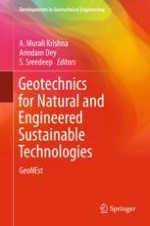 Erstes Kapitel lesen
Autoren: Madhav Madhira, Venkata Abhishek Sakleshpur
Verlag: Springer Singapore
Abstract
Geotechnical practice conventionally involves investigating a site to characterize it through: (1) in situ testing and (2) laboratory testing of so-called undisturbed samples, and then synthesizing the results to predict the overall response of the ground to engineering intervention. In the recent past, several case studies have been reported in the literature, particularly of soft ground improved by preloading with prefabricated vertical drains (PVDs), with time–settlement plots obtained from data recorded by settlement gauges installed at different depths in the ground. In addition, several load–displacement responses of piles are also available in the literature. This paper complements the above approach of element response to gross one by analyzing the response of the ground to arrive at its gross engineering properties or characteristics. Methods to estimate the compression index,
C
c
, and the coefficient of radial consolidation,
c
r
, by back-analysis of observed time–settlement plots of PVD-improved ground are illustrated. Furthermore, an approach to predict the magnitude of desiccation of weathered crust, and quantify the non-homogeneity of soft ground with respect to
C
c
, is presented. The
c
r
values estimated from three case histories compare reasonably well with those given by Hansbo (
2005
). Lastly, a method to estimate the initial shaft and base stiffnesses and the ultimate shaft and base resistances of a pile foundation is presented by considering the soil–pile response to be hyperbolic. Predictions compare well with results obtained from pile load tests (PLTs) performed at three different locations in India.