2013 | OriginalPaper | Buchkapitel
Germans at the Crossroad: Preserve Their Socio-Economic Model or Save the Euro?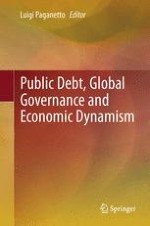 Erstes Kapitel lesen
Autoren: Luigi Bonatti, Andrea Fracasso
Verlag: Springer Milan
Abstract
Section 2
of the paper describes some peculiar features of the German socio-economic model and argues that there is a widespread consent in Germany on preserving it in the face of global, European and national challenges. Essential components of this model are the export-oriented manufacturing sectors. Painful reforms were implemented in the first half of the 2000s with a view to strengthening the international competitiveness of these sectors and the German ability to penetrate the fast growing emerging markets. The second section of the paper addresses the intra-euro imbalances and discusses the thesis according to which the creation of the euro ended up acting as an asymmetric shock that put in motion a process of real divergence between the member countries, exacerbating the historical core-periphery divide. The elimination of the intra-euro interest differentials made easier for the periphery countries to borrow and to postpone the adjustment necessary to close the gap from the core. By reference to
Sects. 2
and
3
,
Sect. 4
discusses the economic rationale underlying the popularity among German commentators and public opinion of the moral hazard issue related to the bailing-out of the periphery countries. This discussion allows us to outline the dilemma faced by the Germans: incurring the relevant costs implied by the virtual renunciation to the no-bailout principle and the dissolution of the euro. To shed some light on the terms of this dilemma, the paper seeks to clarify how the German objective to remain also in the future a leading player in the world economy and to preserve its socio-economic model may be compatible with the political need to accommodate the requests of its stagnating euro-periphery partners (and save the euro).