01.02.2020 | Ausgabe 5/2020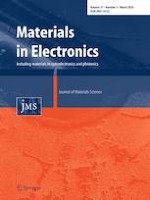 Giant magnetization and ultra-low loss in non-magnetic ion-substituted barium nanohexaferrite matrix
Autoren:

Virender Pratap Singh, Khalid Mujasam Batoo, M. Singh, Sanjeev Kumar, Gagan Kumar
Wichtige Hinweise
Publisher's Note
Springer Nature remains neutral with regard to jurisdictional claims in published maps and institutional affiliations.
Abstract
Ba
0.7
Nd
0.3
Cd
x
Fe
12−

x
O
19
nanohexaferrites have been synthesized by sol–gel method. Rietveld refined X-ray diffraction study predicted the single phase formation with c/a ratio 3.93. The magnetic and dielectric properties have been significantly improved with the addition of cadmium ions. An increase in the saturation magnetization (65.01–103.46 emu/g) and retentivity (32.15–51.90 emu/g) has been observed with the incorporation of cadmium ions and incredible enhancement in the saturation magnetization, up to 103.46 emu/g, is observed for
x
 = 0.3. The value of magnetization so obtained is the prime achievement of the present work. The dielectric constant (
ε
ʹ), dielectric loss (
ε
ʺ), magnetic permeability (
μ
ʹ) and magnetic loss (
μ
ʺ) are investigated over GHz frequency range. The results are explained in the light of Maxwell–Wagner model. Further, the Mössbauer spectroscopic analysis of the synthesized nanohexaferrites is also carried out to support the magnetic study.