2017 | OriginalPaper | Buchkapitel
41. Glasses for Photonic Integration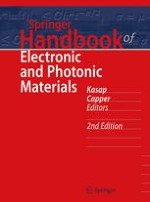 Erstes Kapitel lesen
Autoren: Ray DeCorby, Mehrdad Irannejad
Verlag: Springer International Publishing
Abstract
Inorganic glasses form the backbone of dielectric materials in optics and photonic applications. In addition to offering a range of transparency windows, intrinsic physical properties of glass materials also offer flexibility of processing for the realization of fibers, films, and shaped optical elements. Traditionally, the main role of glass has been as an optically passive material. However, a significant attribute of glass as an optical medium is to host dopants such as nanoparticles or active ions in a unique chemical environment, which can be engineered via processing, by controlling the geometry to develop active and passive photonic devices, such as laser, amplification, storage media, optical switching, frequency conversion, and sensor media.
For photonic integration, many of the attributes of glasses are particularly compelling. Glasses allow numerous options for thin film deposition and integration on arbitrary platforms. The possibility of controlling the thermal and flow properties, e. g., expansion coefficient, crystallization, and viscosity during film deposition of a glass may allow realization of extremely low-loss microphotonic waveguides, photonic crystals, and microcavities. The metastable nature of glass can enable the direct patterning of photonic elements by energetic beams.
This chapter provides an overview of these unique properties of glasses, from the perspectives of the technology options they afford and the practical limitations they present. Further, an overview is provided of the main families of glassy inorganic films studied for integrated optics. Finally, the main features of rare-earth doped glasses are reviewed, with an emphasis on their potential for implementation in compact integrated light sources and amplifiers.